STRYPER'S MICHAEL SWEET DISCUSSES FORMER BASSIST TIM GAINES, GUITARIST OZ FOX AND NEW MUSIC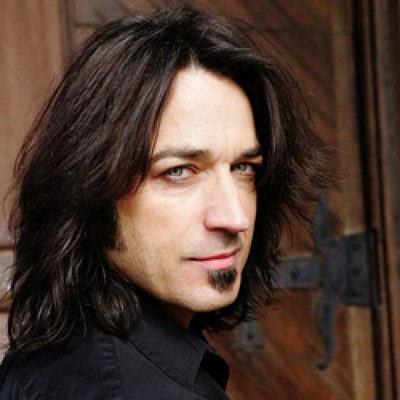 Ruben Mosqueda of Sleaze Roxx spoke with Stryper frontman Michael Sweet. Highlights from the discussion appear below.
Sleaze Roxx: At one point [bassist] Tim [Gaines] [re-joined Stryper]. I don't know if that was driven by pressure from fans who wanted the "classic" line-up back together. It probably didn't work out how you had hoped. So was this the classic remarrying the ex-wife only to find out that it wasn't going to work out no matter what?
Michael Sweet: Let me tell you what it was. This is the truth of the matter. I don't think that a lot of people are aware that this was the third time that he has been out of the band. Without going into some of the reasons, you're referring to '09. At the time, my wife Kyle was battling ovarian cancer. It seemed like the right time to do something like that. Tracy Ferrie at that time was Stryper's bass player, but we envisioned doing two sets — one with Tim and another with Tracy. It was my idea and the only reason that I wanted to do that was to make peace and put aside all our differences and move on. I didn't want to refer to that as a "healing" tour but rather a "come together" tour, if that makes sense.
So that was the plan but then Tracy wound up leaving and we wound up going out with Tim only for the '09 tour. Then the '10 tour became the Tim's "staying" situation. It originally wasn't going to be that, okay. That is coming from the horse's mouth, the guy who had the idea. So it was going to be a one off with Tim and Tracy, then we'd continue from there forward with Tracy. Things didn't work out with Tim and then things come full-circle with our "God send" of a bass player, Perry Richardson who came on board to be part of our organization. Unless Perry has other plans, but as far as I'm concerned he's not going anywhere [laughs]! Forever. Or until we go to meet The Lord [laughs].
Sleaze Roxx: Readers are also aware of Oz [Fox] and his health scare, you recently performed a show or couple of shows as a three piece, what was that like?
Michael Sweet: We haven't since back in the early days. Before we were Stryper, we were Roxx Regime. We used to do some of the songs that would go on to be recorded by Stryper like Marching Into Battle. We recently recorded that for the Fallen album and we used perform that as Roxx Regime. This was the first time that Robert [Sweet], Perry and myself have performed as a trio. It was a little nerve racking, because I had to take parts that I normally didn't play or sing to try to fill in. I think the biggest hurdle that I need to overcome was when I was soloing and there was no rhythm guitar. Things like that were a little off. Having said that, we went out, we did it and somehow, we pulled it off. The crowds were very supportive. I was prepared to read some not so favorable reviews, but they were pretty favorable. So it worked out.
Sleaze Roxx:…Will we see a follow up to The Covering and to Second Coming in the near future?
Michael Sweet: You will but I think you'll see a new original album which we will record in 2019. I will also be doing another solo album which will be the follow up to One Sided War. We have some ideas for songs for the follow up to The Covering. I'd like to do, some more [Judas] Priest, I like to do another Boston song, another Maiden song, something from Thin Lizzy and maybe a Styx song. I'd like to do Yesterday & Today. They're not called Y&T. We used to do David Bowie. I'd love to cover something by David Bowie. We will absolutely do another album of Stryper re-records. We're one of those bands that will get to it, but it's just a matter of time until we make it happen. I'd love to record some more "classic" songs with Perry playing on them. It's just a matter of finding the time, but we have to do another The Covering album and another re-record, with stuff from In God We Trust and a couple things from Against The Law and maybe even tap into stuff from Reborn and Murder By Pride.
Read more at Sleaze Roxx.
source: sleazeroxx.com