STRYPER TO RELEASE "GOD DAMN EVIL" ON APRIL 20TH, RELEASE VISUALIZER VIDEO FOR "TAKE IT TO THE CROSS"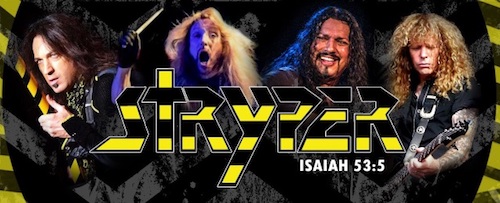 Stryper's new album, God Damn Evil, will be released on April 20th through Frontiers Music Srl. The band has released a video for the song, Take It To The Cross, which can be viewed below.
"Take It To The Cross is our answer to many fans asking us to do something a little heavier and even bordering on thrash," said Michael. "The verses are heavy with a vocal and lyric delivery that's bold and relevant yet the chorus kicks in with a fast, thrashy vibe. We brought in Matt Blanchard (Act Of Defiance, Shadows Fall) to handle the vocal growl on the choruses and the end vamp. This song is 100 percent high octane."
Speaking about the new album's title, Sweet said:, "We thought long and hard about this title. It was actually considered quite a few years ago and it just didn't feel like the right time. Now, with all the evil in the world that we see around us on a daily basis, it made perfect sense. It's a very bold statement yet a prayer asking God to damn/condemn evil. Nothing more, nothing less."
God Damn Evil track listing:
1. Take It To The Cross
2. Sorry
3. Lost
4. God Damn Evil
5. You Don't Even Know Me
6. The Valley
7. Sea Of Thieves
8. Beautiful
9. Can't Live Without Your Love
10. Own Up
11. The Devil Doesn't Live Here
God Damn Evil is available now for pre-order in multiple configurations.