STRYPER ANNOUNCE THEIR NEW BASSIST, PERRY RICHARDSON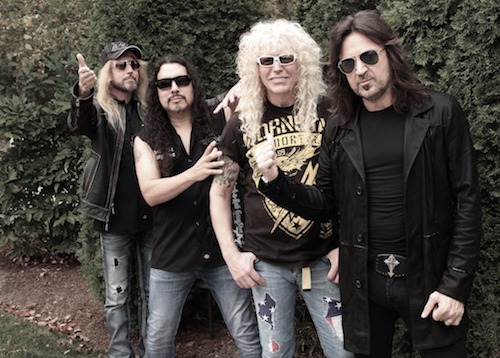 After months of speculation, multi-platinum rock band Stryper is excited to announce the addition of iconic bass player Perry Richardson to the band lineup. Richardson joins original members Michael Sweet (vocals and guitar), Robert Sweet (drums) and Oz Fox (guitar), all of whom are currently in pre-production on their upcoming album due in 2018 from Frontiers Music SRL.
The bass player position became available following last year's highly successful 30th Anniversary To Hell With The Devil Tour, which saw record crowds and featured Stryper's largest sound and lighting production in nearly two decades. Perry becomes only the 3rd bass player to fill that slot in the band's 34 year career.
Richardson is best-known as a founding member of the multi-platinum band Firehouse, who exploded onto the scene in the early 1990s with hit singles like Don't Treat Me Bad, Love of a Lifetime and When I Look Into Your Eyes. In 1992, the band took home an American Music Award for Favorite Heavy Metal/Hard Rock New Artist, beating out both Nirvana and Alice In Chains. Since departing Firehouse, Richardson has remained active touring with various artists including Trace Adkins and Craig Morgan.
"The first time I met the guys in Stryper was in 1985, when my first band, Maxx Warrior opened for them in Charlotte, NC," says Richardson. "From that first meeting, they have always been one of my favorite bands and a huge influence on me personally and musically. To have the honor of becoming a member of Stryper today, is an indescribable experience for me. I am so overwhelmed I can't put it into words. To be asked to be a member of one of my favorite all-time bands is one of the greatest honors of my career. I'm so looking forward to being a part of this next chapter in Stryper's legacy. I'm ready to rock the world with my new brothers."
"Perry is a perfect fit within our band," adds Stryper frontman Michael Sweet. "He's an amazing singer, an excellent bass player and just a great human being. The moment we first rehearsed with Perry we knew that it was right. We sang harmonies and the vocals sounded awesome. He shared stories of how Stryper was one of his favorite bands and that he's always respected us. It meant a lot to hear him say that. He has brought a kind and humble spirit to the band. He is a professional and an absolute gentleman. His resume is quite extensive and as impressive as it gets. We're honored to have him on our team and we're extremely excited about the future."
Original, and now former, bassist Tim Gaines' departure from the band was less than amicable. Gaines said, "all hell broke loose" after he "ended up getting a divorce, which is taboo as far as Christianity, I guess."
Stryper countered with their own statement declaring, "The accusations that have been made that our decision to terminate Tim is based on his divorce couldn't be further from the truth…The band decided to take a hiatus in order to give Tim time and space to work through his personal issues. However, based on Tim's…intentional, erratic and hostile behavior, which has damaged Stryper and threatened to undermine the band's ability to go forward professionally, we were left with no other choice but to part ways. Tim…have left their scars and have hurt us in more ways than you can imagine."