STONE TEMPLE PILOTS BASSIST ROBERT DELEO DISCUSSES THE VARIOUS MUSIC STYLES ON "TINY MUSIC…SONGS FROM THE VATICAN GIFT SHOP," AND SAYS "DON'T CRITICIZE A SONG UNTIL YOU PLAY IT, BECAUSE THE EASIEST THING CAN BE THE HARDEST THING"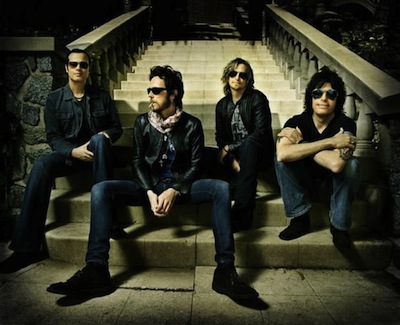 Greg Prato of Guitar World spoke with Stone Temple Pilots bassist Robert DeLeo, excerpts appear below.
…To mark [its 25th anniversary], Stone Temple Pilots is giving [their third album] Tiny Music…Songs from the Vatican Gift Shop the box set treatment – loaded with goodies (including outtakes and a previously unreleased live show from the era) and featuring the late/great Scott Weiland on vocals.
Guitar World: I always assumed the album's title related to using small amps for the recording. Am I right?
Robert DeLeo: No, because we were always using smaller amps. We started getting more into those on Purple, the album before it. But the album title came about because we had one of those things where you have a bunch of words on magnets that go on the refrigerator. I think Dean was the one who put together Tiny Music. And that's where it kind of all stemmed from – putting those two magnetic words together on a refrigerator.
Guitar World: How has your bass playing evolved since then?
Robert DeLeo: I used to be better back then! [Laughs] I used to be one of those people that really tried to be a great bass player. And then I realized there are a lot of other people that can do that better. But not everyone can write songs…t's important for any musician – especially young and up and coming – to really just listen to as many kinds of music that you can. Just digest whatever you can, and I think eventually, things will come out. And you'll know how they want to come out – from yourself.
Guitar World: Is it ever challenging for you to play a variety of different styles? Tiny Music was STP's most musically diverse album.
Robert DeLeo: No. It's fun…I said this many times before – don't criticize a song until you play it. Because the easiest thing can be the hardest thing – whether it's feel or laying back or groove. Just learn how to play it. And then when a song like that comes up, you'll know how you want to play that song. I think it's important.
Guitar World: What is up next for STP?
Robert DeLeo: We're still trying to figure that out. These are interesting times…I think we're still trying to figure that out… I think the world is still trying to figure that out. So, we're kind of at the mercy of the hands of this pandemic and seeing where this all takes us. I'm hopeful – to see what's going to happen here. And hopefully see the light at the end of the tunnel.
Read more at Guitar World.
Stone Temple Pilots' Tiny Music box set will be available on July 23rd.