STEVEN TYLER TO RELEASE "WE'RE ALL SOMEBODY FROM SOMEWHERE" ON JULY 15TH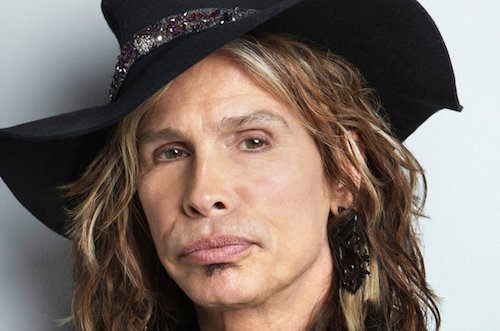 Aerosmith frontman Steven Tyler has announced that his debut solo album will be released this summer.
The country-inspired record is titled We're All Somebody From Somewhere and it'll be out on July 15th. The singer streamed the track Red, White & You earlier this year.
Also, he's confirmed that among the fifteen tracks on the record, which was recorded in Nashville, will be a "darker, countryfied" take on Aerosmith hit Janie's Got A Gun, which originally appeared on the band's 1989 album Pump.
Tyler tells Rolling Stone, "I believe y'all are gonna listen to this stuff and you're gonna agree with me that it fell from a star. I had nothing to do with this shit – it's just Nashville. There's something so magical about this town and me writing with all these people."
In addition, Tyler has announced a run of live dates which will take place in smaller venues across North America under the banner Steven Tyler… Out On A Limb.
The singer continues, "It's a very living room thing to play small venues – it's a little more personal.
I get to talk to people and be up-close and personal, and tell them how the music business is a dark trench – a dark, dirty, money trench. And talk about where I get my inspiration from and talk about the new songs on the record."
A full tracklist will be revealed in due course.
In 2015, the singer admitted his Aerosmith bandmates were "not happy" about his solo album, as it resulted in the band cancelling most of their 2016 tour plans, according to guitarist Brad Whitford.
Steven Tyler… Out On A Limb 2016 North America tour
Jul 2: Las Vegas Venetian Theatre, NV
Jul 5: Los Angeles Dolby Theatre, CA
Jul 8: Seattle McCaw Hall, WA
Jul 10: Vancouver Orpheum Theatre, BC
Jul 14: San Francisco The Masonic, CA
Jul 20: Phoenix Comercia Theatre, AZ
Jul 23: Denver Ellie Caulkins Opera House, CO
Jul 26: Austin Bass Concert Hall, TX
Jul 29: Houston Revention Music Center, TX
Aug 1: Dallas Music Hall At Fair Park, TX
Aug 13: Chicago Theatre, IL
Aug 17: Nashville The Ryman Auditorium, TN
Aug 20: Iowa Des Moines Iowa State Fair, IA
Aug 23: Washington Warner Theatre, DC
Aug 29: Clearwater Ruth Eckerd Hall, FL
Sep 1: Atlanta Cobb Energy Performing Arts Center, GA
Sep 4: Boston Citi Performing Arts Center Wang Theatre, MA
Sep 7: Upper Darby Tower Theatre, PA
Sep 13: Toronto Sony Centre For The Performing Arts, ON
additional source: teamrock.com/news