STEPHEN PEARCY TO RELEASE "SMASH" ON JANUARY 27TH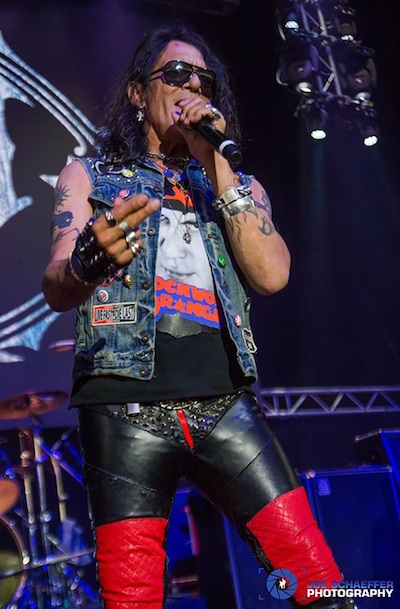 Frontiers Music Srl is thrilled to announce the January 27th, 2017 release of Stephen Pearcy's fourth original solo album, Smash. Stephen Pearcy, best known as the original vocalist and founding member of the platinum rock band Ratt, has been working hard to complete his highly anticipated new album, while at the same time keeping busy performing shows across the U.S. The first audio offering from Smash, entitled I Can't Take It can be heard below.
Pre-order the album on iTunes and get I Can't Take It instantly.
Stephen will be supporting Smash with live dates in the U.S. and internationally.
"It took long enough to finish the new record Smash and it is well worth the patience taken, giving every song as much attention as the next. Erik Ferentinos (lead guitars & co-writer), Greg D' Angelo (drums) and Matt Thorne (bass, keyboards) and myself didn't settle on any first, second or third takes. We let some songs grow if needed, then go back and complete it. We're very happy with the outcome, that we were able to experiment and grow with the new songs," says Pearcy of the new album.
With over 15 million records and gold and platinum long form videos sold in the U.S. alone with Ratt, touring the world with over 20 albums to his credit with other ventures, solo projects, compilations, best of records, and other bands he created, there is no slowing Pearcy down.
Smash Track Listing:
1. I Know I'm Crazy
2. Ten Miles Wide
3. Shut Down Baby
4. Dead Roses
5. Lollipop
6. Hit Me With A Bullet
7. Rain
8. Want Too Much
9. What Do Ya Think
10. Jamie
11. I Can't Take It (Album Version)
12. Passion Infinity
13. Summer's End
Pearcy is an accomplished songwriter with credits on all of Ratt's records through the years (including Out Of The Cellar, Invasion Of Your Privacy, Dancing Undercover and more). More recently, Ratt's last studio album, Infestation was released a few years ago to rave reviews around the world. Stephen is also a producer, composer, television program creator, art director, marketing director, and owner/product creator of "Mic Knuckle" (hands free mic holder) and has also been involved in music for ESPN2 NHRA Drag Racing. Additionally, he has been involved in sponsoring several top fuel dragsters and funny cars since the mid 80's-90's thru the 00's.
Stephen Pearcy online:
Official Website
Facebook
Twitter