SOME LEVITY FOLKS: COW BEARS STRIKING RESEMBLENCE TO KISS' GENE SIMMONS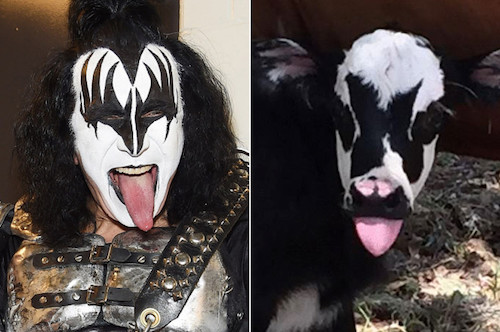 A Texas calf born July 28 bears an uncanny resemblance to KISS frontman Gene Simmons, and tourism officials joked on Facebook that the rock star may be the dad, The Sun reported.
"Gene Simmons, where were you on about November 25, 2016?" Hill Country Visitor cheekily posted Saturday, along with a photo of the newborn cow, who looks like she could break out into Rock and Roll All Nite at any moment.
The calf — aptly named Genie — was born in Kerrville on the ranch of Heather Taccetta, who works at Cowboy Steakhouse.
Taccetta immediately recognized that Genie looks like the tongue-wagging rocker and sent a photo to her local tourism board, telling it that KISS songs were being played when the calf was conceived.
In addition to the black and white markings on the calf's face, she is sticking out her long tongue — mimicking the trademark appearance of the rocker, who also is known for his "devil horns" hand gesture.
Simmons was once rumored to have had a cow tongue grafted onto his own.
Taccetta said she won't serve Genie to customers and will keep her as a mascot for the steakhouse.
Simmons noticed his doppelgänger and exclaimed on Twitter: "This is real, folks!!!"
"Calf called Genie is born on Texas ranch and looks EXACTLY like Kiss rocker Gene Simmons," read his post.
additional source: nypost.com