SLAYER'S TOM ARAYA AND KERRY KING TALK ABOUT THE "RELENTLESS" VIDEO TRILOGY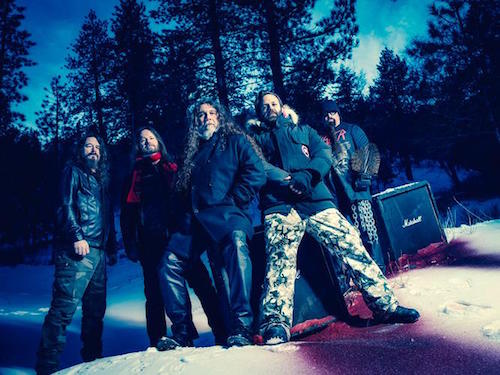 When the members of Slayer were approached by Nuclear Blast America's General Manager Gerardo Martinez to make a music video for Repentless, the title track of the band's 2015 label debut, they thought it was going to be a cool, one-off music video. Little did they know. Watch Ton Araya and Kerry King discussion below.
Martinez put the band together with up-and-coming director BJ McDonnell who turned in a storyline that the band really liked. McDonnell made his living as a motion picture and televison camera/ steadicam operator, having worked on features such as Avengers: Age of Ultron, The Interview, and Jack Reacher, and had one directing project under his belt, 2013's Hatchet III.
"Meeting him, he was excited," remembers Slayer's Tom Araya. "He really liked the fact he was working with the band, he was a fan, and his excitement rubbed off because it made me excited. I thought, 'well this is gonna be fucking great!'"
Repentless was shot on August 25th & 26th, 2016 at the Sybil Brand Institute, a women's prison in East Los Angeles. BJ and producer Felissa Rose (Camp Dread, the upcoming Death House) put together an all-star cast of instantly-recognizable bad guys: Danny Trejo (Machete, From Dusk Till Dawn), Tony Moran (Halloween's Michael Myers, American Poltergeist), Derek Mears (Predators, Friday the 13th) Tyler Mane (Halloween), Sean Whalen (Men In Black, Halloween II), Vernon Wells (Mad Max 2, Commando, Weird Science), and Jason Trost (Hatchet III), who starred in all three videos. They then brought in a killer, all-pro crew – stunt coordinator Don Lee (Abraham Lincoln: Vampire Hunter, Star Trek Beyond), director of photography Eric Leach (The Neighbor, What Lola Wants), Special FX makeup artists Tony Gardner and Adrienne Lynn (Scouts Guide To The Zombie Apocalypse, Zombieland, The Bad Batch), and editors Ed Marx and Andrea Porter (Hatchet III).
Said Kerry King, "When I saw Repentless, I said 'that's the video we should have done 20 years ago. It's Slayer. That video is Slayer.'"
To date, the "Repentless" video has accumulated more than 10-million YouTube views. Watch it below.
In the late Fall of 2015, Martinez discussed with McDonnell the idea of doing a prequel and sequel for Repentless. McDonnell loved the idea and wrote the treatments. Filming for both videos took place February 1st & 2nd, 2016. You Against You was shot at The Aviation Warehouse, a graveyard of jets, airplanes and helicopters in Calfornia's Mojave Desert and premiered on March 16th, 2016. View it below.
The snowy mountains of Wrightwood, CA served as the location for the final video in the trilogy, Pride In Prejudice, that made its debut on September 6th, 2016. The video appears below.
Said director McDonnell, "Having the opportunity to write and direct three music videos for a band I've always loved was a bucket list dream come true. All of the guys in Slayer made me feel so comfortable and at home. I put them in the worst elements possible and they were always enthusiastic and ready to bring the 'A' game. Heat, snow, wind, etc., the band owned it, bringing my vision to life. The band and crew all worked hard to bring this trilogy to life and I'm very proud of what we created."
To celebrate the one-year anniversary of, Repentless, the release of the trilogy video, and the massive tour that Slayer has embarked on through North America, Nuclear Blast will be offering the album to U.S. customers through iTunes at a sale price from Monday, September 19th through Sunday, September 25th.
Visit Slayer online at slayer.net.