SLAYER'S TOM ARAYA AND KERRY KING TALK ABOUT "SLAYER: THE REPENTLESS KILLOGY" FILM AND PLAYING THE L.A. FORUM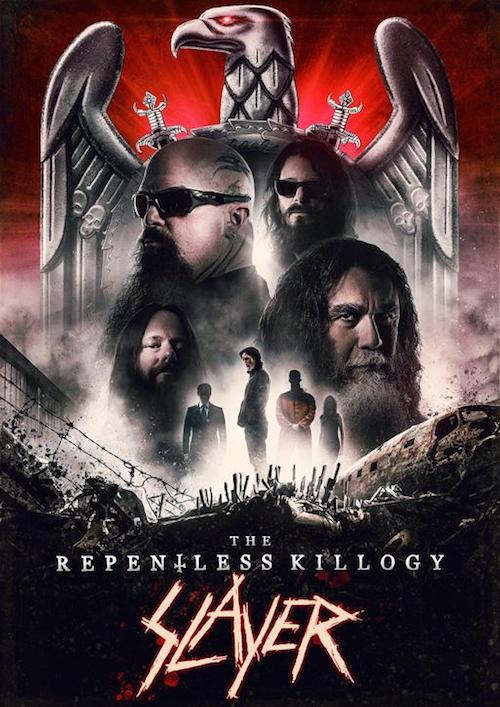 In a new video released today (10/30), Slayer's Tom Araya and Kerry King share the story behind the previously-unseen short film and boundary-pushing music video trilogy that is set to be presented alongside Slayer's entire 2017 concert shot at the Los Angeles Forum. Slayer: The Repentless Killogy will see its one-night theatrical screening take place around the world on November 6th, from Trafalgar Releasing.
Featured in this exclusive new interview footage above, Araya and King break down the making of the final film, from the original concept for the Repentless music video with director BJ McDonnell, to collaborating with Nuclear Blast Records and Prime Zero Productions to produce McDonnell's larger vision for a unique, three-part narrative trilogy of relentlessly blood-soaked, revenge-driven music videos and the short film they inspired.
"When we first did it, I thought we were just doing the Repentless music video, I didn't know we had a plan for three videos," says King, speaking to the overall concept. "This trilogy is unique and I think it's unique to Slayer which makes it even cooler."
The interview also explores Slayer's relationship with Los Angeles and how meaningful it was to finally play the "fabulous" Los Angeles Forum after years of being banned from playing live shows anywhere in Los Angeles County. Said Araya, "I grew up in L.A…I watched the Lakers, Jerry West, Wilt Chamberlain, a f*cking awesome team, that's what I watched growing up and they were at the fabulous Forum."
Slayer: The Repentless Killogy will be in theaters for one-night-only from Trafalgar Releasing, Nuclear Blast Records and Prime Zero Productions on November 6th, and fans can now find local theaters and purchase tickets at Slayer.Film. Check out the film trailer here. Following the global theatrical premiere, on November 8th, the film will be available digitally and on Blu-ray, and the soundtrack from that concert will be released as both a two-disc vinyl and two CD packages.