SLAYER'S KERRY KING SAYS GUITARIST JEFF HANNEMAN'S STATUS IN THE BAND IS STILL UNKNOWN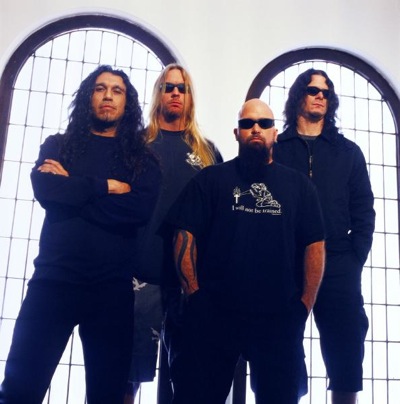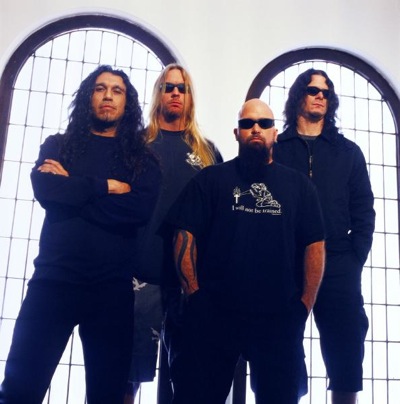 Slayer's Kerry King has implied that the band could move on without guitarist Jeff Hanneman, who has been sidelined for two years after sustaining a near-fatal spider bite.
The guitarists haven't spoken to each other in some time, leading King to wonder whether Hanneman has any intention of rejoining the band. With two songs underway for their next album, King reveals he'd be comfortable with stand-in man Gary Holt of Exodus making his presence more permanent.
That could leave Slayer facing the future with just two founding members remaining after they dropped drummer Dave Lombardo for their Australian tour following a contractual dispute. Temporary replacement Jon Dette has already discussed the chances of his return becoming a full-time commitment.
King tells Metal Obsession, "I don't have an update – I haven't seen Jeff in forever. He's always been a recluse, and he's even been more of a recluse since he's not going on tour with us. Our manager talks to him from time to time and sees him in LA just randomly. But I'm far from LA, so I'm not in that loop."
Hanneman could be on the road with Slayer if he wanted to be, King suggests, "He can do anything in life – he could be hanging here having a good time with us." But he accepts a full-power show might not be forthcoming, "He can probably play South Of Heaven, but he's not gonna be playing Jihad, you know what I mean?"
The band plan to mix the tracks they've already recorded then continue with work on the rest of the album over the summer – and King believes it could easily be completed without Hanneman's input. "It's just all my stuff for now," he says. "I did that just in case; I don't know what Jeff's intentions are. So I wanted to have Slayer covered in case he doesn't come to the party. If he comes to the party, then we've got tons of songs."
Meanwhile, if Holt's position were to become permanent, that wouldn't present a problem. "I think Gary is in for the long haul," says King. "I haven't really discussed it with him. But he keeps his schedule free when he knows we're on tour.
"If Jeff all of a sudden came back in June, we would probably pay Gary for freeing up his time. I don't wanna treat somebody that's bailed us out for two years badly. But if Gary played with us for ever? I'm okay with that."
additional source: classicrockmagazine.com.