SLAYER ADDS MORE DATES TO THEIR FALL 2013 NORTH AMERICAN TOUR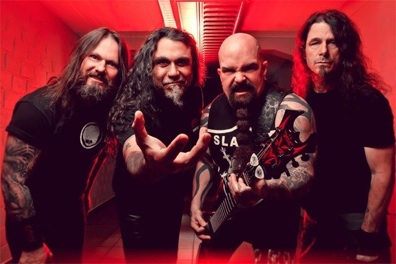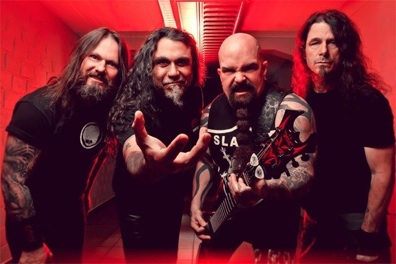 A week after announcing seventeen U.S. dates for the fall, Slayer announced today (September 9th) the addition of seven Canadian concerts as well as a date in Seattle. These added shows are in bold below, and are part of Slayer's first North American tour in two years.
Slayer – Tom Araya/bass vocals, guitarist Kerry King, drummer Paul Bostaph, and guitarist Gary Holt, who continues to fill in for the late founding member Jeff Hanneman – will have Gojira and 4ARM support on all dates.
Tickets for these newly-added dates go on sale beginning this Friday, September 13th. Log onto www.slayer.net for a complete on-sale dates and ticketing information.
Slayer's Fall 2013 North American tour is as follows:
October:
22 Sullivan Sports Arena, Anchorage, AK
25 The Joint at Hard Rock Hotel & Casino, Las Vegas, NV
28 Hollywood Palladium, Hollywood, CA
30 Events Center @ San Jose State, San Jose, CA
November
1 WAMU Center, Seattle, WA
3 Stampede Corrall, Calgary, AB
4 Shaw Center, Edmonton, AB
5 Praireland Park Center, Saskatoon, SK
7 MTS Center, Winnipeg, MB
8 Myth, Minneapolis, MN
10 FunFunFun Fest, Austin, TX
12 Bayou Music Center, Houston, TX
13 South Side Ballroom, Dallas, TX
15 Aragon Ballroom, Chicago, IL
16 The Fillmore, Detroit, MI
17 LC Pavilion, Columbus, OH
19 The Fillmore, Washington, D.C.
20 Stage AE, Pittsburgh, PA
21 Ricoh Colibsum, Toronto, ON
23 CEPSUM/University of Montreal, Montreal, QC
24 Pavilion de la Jeunesse, Quebec, QC
26 Oakdale Theatre, Wallingford, CT
27 Theatre @ MSG, New York, NY
29 Susquehanna Bank Center, Camden, NJ
30 Tsongas Arena, Boston, MA