SLASH TO RELEASE "LIVE AT THE ROXY 9/25/14" AS A BITTORRENT BUNDLE ON JUNE 16TH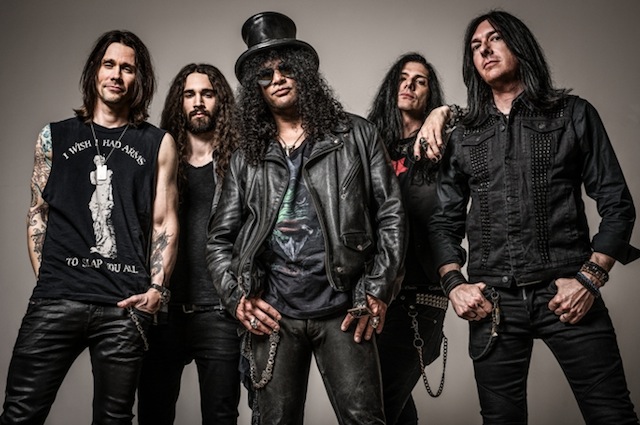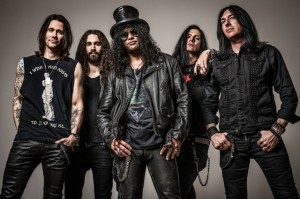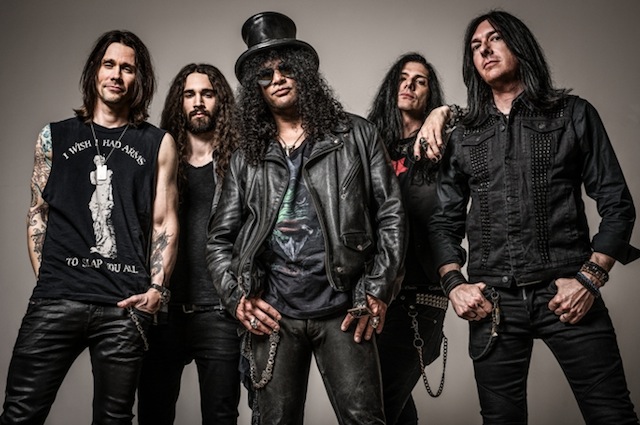 While Slash Featuring Myles Kennedy and The Conspirators are currently in the midst of a headlining world tour, the group has partnered with BitTorrent to release Live At The Roxy 9/25/14 as a BitTorrent Bundle on Monday, June 15th, the same day the live concert will be released on DVD, Blu-ray, 3LP, 2CD through all major retailers and digital formats simultaneously via Eagle Rock Entertainment. The group will make the digital version available in the BitTorrent Bundle on Monday, June 15th in the U.K. and on Tuesday, June 16th in the U.S. For more information, visit here. BitTorrent Bundle has a global user base of 170 million music and film fans.
Shortly after the release of their current World On Fire album–Slash's third straight solo album to debut in the Top Ten in the U.S and the second album with his official band The Conspirators–the iconic American rock guitarist, songwriter and film producer SLASH took the stage with his band The Conspirators which features Myles Kennedt (vocals), Brent Fitz (drums), Todd Kerns (bass) and Frank Sidoris (touring guitarist) at the legendary Roxy Theatre on Sunset Strip in West Hollywood, CA. A staple of rock history that helped birth countless bands, including Guns 'N' Roses, the atmospheric venue gave fans a brilliant opportunity to see the band up close as they delivered a set packed with recent solo tracks, including several from the new album World On Fire, and classics from Slash's days with Guns N' Roses and Velvet Revolver: Ghost, Back From Cali, World On Fire, Sweet Child O' Mine, Anastasia,Paradise City, Slither, Nightrain and many more. The intimate setting inspired the band to deliver a scintillating, dynamic performance that is brilliantly captured on Live At The Roxy 9/25/14. Slash's guitar prowess paired with the raw energy of Myles Kennedy and The Conspirators proves a truly potent live force and Live At The Roxy 9/25/14 sets the benchmark for high octane rock n roll shows.
Last month, Slash and his band partnered with IFAW, the International Fund for Animal Welfare to raise awareness of the slaughter of elephants which is leading to their early extinction, to read more about this, please click here.
Live At The Roxy 9/25/14 DVD/Blu-Ray track listing:
1) Ghost
2) Nightrain
3) Back From Cali
4) You Could Be Mine
5) Rocket Queen
6) Bent To Fly
7) Starlight
8) You're A Lie
9) World On Fire
10) Anastasia
11) Sweet Child O' Mine
12) Slither
13) Paradise City
Bonus Tracks:
(1) Stone Blind
(2) You're Crazy
(3) Wicked Stone
(4) 30 Years To Life
Live At The Roxy 9/25/14 3LP/2CD track listing:
1) Ghost
2) Nightrain
3) Halo
4) Back From Cali
5) Stone Blind
6) You Could Be Mine
7) Doctor Alibi
8) You're Crazy
9) Wicked Stone
10) 30 Years To Life
11) Rocket Queen
12) Bent To Fly
13) Starlight
14) You're A Lie
15) World On Fire
16) Anastasia
17) Sweet Child O' Mine
18) Slither
19) Paradise City