SLASH FEATURING MYLES KENNEDY AND THE CONSPIRATORS TO PERFORM NEW SINGLE "BENT TO FLY" ON "CONAN" FEBRUARY 5TH AT 11:00 PM (ET/PT) 10:00 PM (CT) ON TBS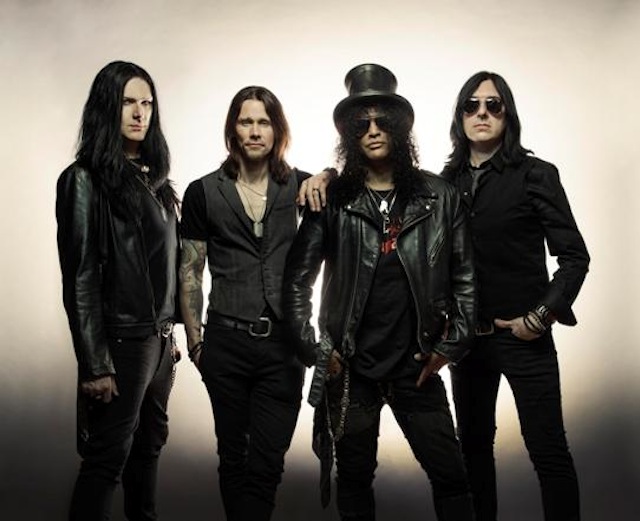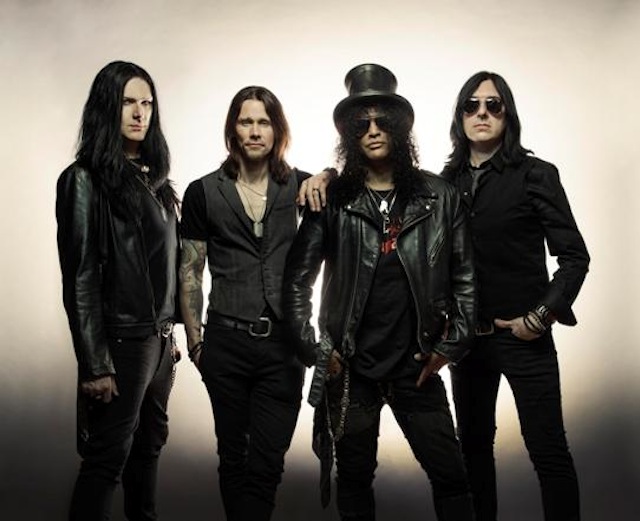 Slash and his band featuring Myles Kennedy and The Conspirators will perform their new single Bent To Fly this Thursday, February 5th on Conan. Tune-in tomorrow night (February 5th) to watch the episode airing at 11:00 PM (ET/PT)/10:00 PM (CT) on TBS TV.
The coming-of-age song Bent To Fly–a standout track off their acclaimed studio album World On Fire–is already Top 20 at Active Rock. The track showcases Slash's stellar guitar-work and frontman Myles Kennedy's vocal command of both high and low ranges. To watch to Conan online the following day (February 6th), visit TeamCoco.
Slash's third straight solo album to debut in the Top Ten in the U.S., World On Fire also achieved over 12 Top Ten chart debuts around the world. The album's title track and first single World On Fire ascended to #1 at U.S. Rock Radio. World On Fire is Slash's second album with his official band The Conspirators which features Myles Kennedy (vocals), Brent Fitz (drums) and Todd Kerns (bass). World On Fire is the follow-up to the acclaimed Apocalyptic Love album (2012) which also stormed the Billboard Top 200 Albums Chart debuting at #4 as the top rock album. Apocalyptic Love has the added distinction of spawning Slash's first-ever #1 rock radio solo hits: You're A Lie and Standing In The Sun and with World On Fire, Slash Featuring Myles Kennedy and The Conspirators have now hit their stride at rock radio and with fans worldwide.
On Monday, February 9th, Slash featuring Myles Kennedy and The Conspirators will head overseas on for tours of Japan, Malaysia, New Zealand, Australia's Soundwave Festival, Chile, Argentina, Peru, Ecuador, Brazil, Mexico, Sweden, Germany and the U.K's Download Festival. Early U.S. festival dates include WJRR Earthday Birthday, Welcome To Rockville, Carolina Rebellion, Rise About Fest and Rock on the Range. Expect the group to announce a major U.S. tour in the coming months.
Slash featuring Myles Kennedy and The Conspirators tour dates:
2/9 Osaka, Japan Namba Hatch
2/10 Tokyo, Japan Studio Coast
2/12 Tokyo, Japan O-East
2/14 Kuala Lumpur, Malaysia Sunway Lagoon Surf Beach
2/17 Hamilton, New Zealand Claudelands Arena Hamilton
2/18 Wellington Central, New Zealand TSB Bank Arena
2/21 Melbourne, Australia Soundwave Festival
2/22 Adelaide Sa, Australia Soundwave Festival
2/24 Sydney NSW, Australia Hodern Pavilion
2/26 Melbourne, Australia Festival Hall
2/28 Brisbane, Australia Soundwave Festival
3/1 Sydney, Australia Soundwave Festival
3/4 Santiago, Chile Teatro Caupolican
3/7 Buenos Aires, Argentina Mandarin Park
3/9 Lima, Peru Parque De La Exposicion
3/11 Quito, Ecuador Agora De La Casa De La Cultura
3/14 Rio De Janeiro, Brazil Fundicao Progresso
3/15 Belo Horizonte, Brazil Galopeira
3/17 Brasilia, Brazil Net Live
3/19 Curitiba, Brazil Master Hall
3/20 Porto Alegre, Brazil Pepsi On Stage
3/22 Sao Paulo, Brazil Espaco Das Americas
3/25 Mexico City, Mexico Pepsi Center WTC
3/26 Guadalajara, Mexico Estudio Cavaret
3/28 Monterrey, Mexico Auditorio Banamex
4/25 Orlando, FL Central Florida Fairgrounds – WJRR Earthday Birthday
4/26 Jacksonville, FL Welcome To Rockville (Festival)
5/3 Concord, NC Rock City Campgrounds – Carolina Rebellion
5/9 Bangor, ME Darling's Waterfront Pavilion – Rise About Fest 2015
5/15 Columbus, OH Columbus Crew Stadium – Rock on the Range (Festival)
6/1 Oslo, Norway Sentrum Scene
6/4 Solvesborg, Sweden Sweden Rock Festival 2014
6/5 Nuremberg, Germany Rock Im Park 2015
6/9 Hamburg, Germany Sportshalle
6/12-6/14 Leicestershire, England Download Festival