SKID ROW GUITARIST DAVE "THE SNAKE" SABO DISCUSSES WHAT HE LEARNED FROM DEF LEPPARD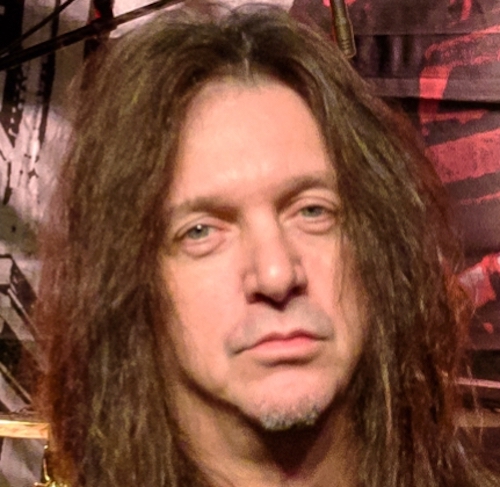 In conjunction with a recent Metal Hammer retrospective on Skid Row's self-titled 1989 debut, guitarist Dave "Snake" Sabo spoke at length about the making of the album with writer Clay Marshall. Some select "outtakes" from the interview appear below (as transcribed by Blabbermouth.net).
On why Skid Row was recorded in Lake Geneva, Wisconsin:
Snake: "The reasoning that they gave us — which was partially true — was, 'We need to get you out of New Jersey, away from your friends, family, isolated somewhere, where it's all about the record.' Rachel [Bolan, bass] and I were like, 'Yeah, okay. We get that.' Plus, we had never really been anywhere. None of us, really. We had played New Jersey, New York, Pennsylvania and Toronto. That was it. We had never been anywhere else, so to go to Lake Geneva, Wisconsin? To us, it might as well have been Paris. So, we come to find out that this recording studio is attached to this old Playboy Club now called the Americana, and the studio Royal Recorders, is owned by two guys from Chicago who were friends with [band manager] Doc[McGhee]. We got a great rate and it's a great studio, and [producer] Michael Wagener went out there and made sure everything was perfect, and it was — everything was great. When we get there, we're like, 'Wow, man. How did they figure out this place? Like, I get it, but how?' Then all of a sudden, there it is — two 18-hole championship golf courses right on the premises. I'm like, 'Ta da — there it is.' While we're doing our record, our management is out there every day playing golf [laughs], and that lit a light bulb in my head. We also were in really close proximity to the Alpine Valley music amphitheater, where every weekend, all these nationals would play, and they would stay at the Americana. They would take a helicopter from Alpine Valley and stay at the Americana, and there we are doing our record, and all these heroes of ours were staying at the Americana more often than not. Their managers would be staying there [too], so every weekend, Doc and/or Scott [McGhee; the band's co-manager] would be playing golf with all these other managers and guys from other bands. I'm like, 'Hmm, a game of golf takes about four or five hours to play, so I can have these guys' ears for four or five hours to talk business and all that stuff. We don't have that time any other time to do that.' I'm, like, 'I'm taking up golf again,' so I would go out there, and we'd play golf out there with all these different artist managers, and I was able to bend Doc's and Scott's ear. It was great for me — it was so educational. It was just really funny how that worked. It was the time of our lives. We had never made records before; none of us were astute at any of them. We had done a million demos, but we were doing it at 8-track studios, or 4-tracks in our bedroom. This was, like, the real thing, and it was so exciting. Rachel and I roomed together; Scotti [Hill, guitar] and Rob[Affuso, drums] roomed together; and Sebastian [Bach, vocals] was rooming with our drum tech, who we brought out there, [and] who was basically handling all the stuff for us. Those guys were the weed smokers, so they would sit in their room and smoke tons of weed. We spent the summer there. We got there, I believe, on July 8th, and then we finished recording right before Labor Day. Everybody went home, but Rachel and I stayed, and we ended up finishing mixing the record, I want to say, around September 18th. It was really weird, because everybody went home before Labor Day, and when Labor Day came and went, what was this ripping summer resort with all this activity and all these people, it became a ghost town. It was like The Shining. It was so creepy. There were no more shows at Alpine Valley. There was a bar at the very, very far end of the resort — like, a 10-minute walk from the studio. The other end of the property. The bar would be packed every weekend night, but the day after Labor Day, it was crickets. It was so creepy. It was Michael Wagener, a couple of the studio staff and myself and Rachel. It was just bizarre."
Discussing his most memorable interaction with a touring act while Skid Row was being recorded:
Snake: "The one thing that did stand out was Def Leppard. They all stayed at the Americana. The guys and the guys in Bon Jovi were friends, so I think Jon and Richie had said something to the Def Leppard guys, like, 'We're working with this group that's doing a record there, just to let you know. If you get a chance, say 'hello'.' Those guys set a tone for us that I still carry with me to this day. I think we all do. That is to be humble and gracious and kind to your fellow brethren in other bands and other musicians. They could not have been nicer. They really, really showed us that no matter how successful you are, you owe it all to the fans, and be humble in your success, and be gracious, and be kind. We had seen that with the Bon Jovi guys, but they were our friends, and I had grown up with Jon, so it was different. To see it from another band that I had admired from a far — I bought On Through The Night at Licorice Pizza in L.A. because I looked at the back cover and it was a bunch of young kids. I was like, 'Oh my god — I've got to have this record. These guys are, like, my age.' It inspired me, because if these guys can do it, what's stopping me? Here they are — I think it was the Hysteria tour — and they came down to the studio and introduced themselves. All of them were just unbelievable. [guitarist] Phil [Collen] came down to the studios, like, 'Hey, I'm taking a helicopter over to the amphitheater. Do you want to come with me?' I'm, like, 'What?' His mother was with him, and I flew on a helicopter with him over to do soundcheck. I'm, like, 'Are you kidding me, man?' All of them, they were just so nice. They had done multiples there, so they spent a few days there, and when they were leaving, they came down to the studio and brought us a bunch of bottles of champagne and wished us luck. It was the way you do things — so classy. It really, really taught us an incredible lesson, and I'm forever thankful. In fact, when the news came out that they were being inducted into the [Rock And Roll] Hall Of Fame, I sent them an e-mail saying, 'I don't know if anyone is more deserving of this honor than you guys. I'll never forget the summer of 1988 and how kind and considerate and gracious and wonderful and amazing and inviting you were to us, as a bunch of unknown idiots doing their first record.' They passed that on to me, and I think we've been able to pass that on to other people as well. That was an incredible experience."
On the fact that producers Michael Wagenerm said the Skid Row sessions were his favorite project of his career:
Snake: "I think it was because we were so scared of him. Seriously. I remember one of his things was, nothing leaves the studio without his permission. We were doing I Remember You, and Sebastian did a scratch vocal on it. Sebastian snuck a cassette out of there and played it for some people, and Michael found out about it. The next morning, he went to Sebastian's room and yelled and screamed at him and grabbed the cassette and threw it in the microwave, and exploded it in the microwave. Sebastian wasn't allowed to take anything out of the studio again until that record was done. Michael was fearless, and because of that, we were fearful of him. Everybody's got pretty strong personalities of their own, but no one was questioning him. What he said was the law, and I'm very thankful for that."
Skid Row was released, January 24th, 1989, on Atlantic Records. Six years later, the album — which yielded the hit singles 18 And Life, Piece Of Me, Youth Gone Wild and I Remember You— was certified quintuple-platinum by the Recording Industry Association of America (RIAA) for shipments in excess of five million copies in the United States.