SIRIUSXM's HAIR NATION FESTIVAL SATURDAY, SEPTEMBER 17TH AT IRVINE MEADOWS AMPHITHEATRE IN SOUTHERN CALIFORNIA TO FEATURE PERFORMANCES FROM VINCE NEIL, BRET MICHAELS, YNGWIE MALMSTEEN, KIX, SLAUGHTER, LITA FORD, AND MANY MORE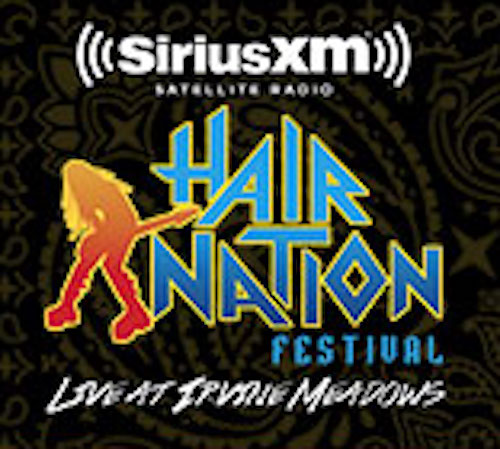 SiriusXM's Hair Nation Festival is set for Saturday, September 17th at Irvine Meadows Amphitheatre in Southern California. Eddie Trunk made the announcement with special guest Bret Michaels live on his SiriusXM show Trunk Nation with Eddie Trunk on Sirius XM's Hair Nation channel on Monday, April 18th.
Rock fans from around the globe are invited to r e­live the filth of the Sunset Strip for one night only at S iriusXM's Hair Nation Festival. The current music lineup is as follows: Vince Neil, Bret Michaels, Yngwie Malmsteen, Kix, Slaughter, Lita Ford, Vixen, Britny Fox, Bulletboys, Fasterpussycat, L.A Guns' Phil Lewis and Tracy Guns, Loudness, Junkyard, Vain, Tuff, Bang Tango, Pretty Boy Floyd, Odin, Gabbie Rae and Circus of Power. The festival will be hosted by Eddie Trunk.
VinceNeil says,"I can't wait to perform back in Southern California where it all started for me.This is a big kick ass event and I'm gonna pull out all the stops on this one. What a great lineup, in a great venue…see you in September. Be there!"
Eddie Trunk adds, "I'm truly honored to host the first ever Hair Nation show. As a lifelong fan, friend and supporter of so many of these bands on radio and TV it's great to see them have their own event to celebrate their decades of great music."
SiriusXM will broadcast performances, as well as backstage interviews with artists, from SiriusXM's Hair Nation Festival on SiriusXM's Hair Nation channel, via satellite on channel 39 and through the SiriusXM app on smartphones and other connected devices, as well as online at siriusxm.com. The broadcast will air the weekend of September 24th.
General Admission and VIP tickets for SiriusXM's Hair Nation Festival go on sale Friday, April 22nd at 10:00 AM PT through HairNationFest.com and start at just $ 15 (plus fees).
SiriusXM listeners will be able to purchase tickets before they go on sale to the general public via a SiriusXM Ticket Presale from Wednesday, April 20th at 10am PT to T hursday, April 21st at 10:00 PM PT.
A limited number of exclusive e xperiences and VIP opportunities are available for purchase, including access to one or more VIP Lounges at the festival, premier seating and VIP restrooms, with some of the packages including exclusive meet & greet and photo opportunities with select bands, front row tickets, and more.
Information and pricing on all packages and experiences including Nobody Rides For Free, Youth Gone Wild, Meet And Greet VIP, Front Row Ultimate VIP, and Booze Cruise Travel Package + Front Row Ultimate VIP is available at HairNationFest.com.
Two lucky unsigned bands will have the chance to play at SiriusXM's Hair Nation Festival via SiriusXM's Hair Nation Festival Battle Of The Bands, held Wednesday, August 17th at the infamous Whisky A Go­Go on the Sunset Strip in West Hollywood, CA. The grand prize winner will open the main stage, and the runner up­­s chosen by host Eddie Trunk and other celebrity rock judges­­ will open the second stage at SiriusXM's Hair Nation Festival. Bands can apply for a chance to play the SiriusXM's Hair Nation Festival Battle Of The Bands by emailing whiskyagogobooking@yahoo.com by June 17th.
SiriusXM's Hair Nation Festival is produced by Live Nation and Synergy Global Entertainment (SGE) and will feature nonstop
music on two stages, including a rotating main stage with back­to­back performances, VIP Meet and Greets, a vendor village, and more.
Live Nation, President – Booking, Los Angeles, Rich Best says, "We're excited to be able to bring some of the defining rock artists of the '80s and '90s back to the outdoor amphitheatre setting of Irvine Meadows for the second year in a row."
John Reese o f SGE adds, "Rock fans traveled from around the country and around the world for last year's festival, so it was clear that there was a demand for the return of the music of Hair Nation. These bands helped define an era when rock and roll was larger than life, and every show was a party. Bringing so many of these bands together at one festival for as low as $15 is a great value for fans."
Irvine Meadows Amphitheatre is located 8808 Irvine Center Drive in Irvine, CA and is less than two hours from Los Angeles, San Diego, Riverside and San Bernardino Counties. It's also conveniently located a short drive from John Wayne Airport in Orange County, CA. For those traveling to the Southern California area to attend SiriusXM's Hair Nation, there are a wide variety of lodging options in the Irvine area.