SINGER JOHN CORABI RE-JOINS THE DEAD DAISES, "BEST OF" ALBUM TO BE RELEASED ON AUGUST 18TH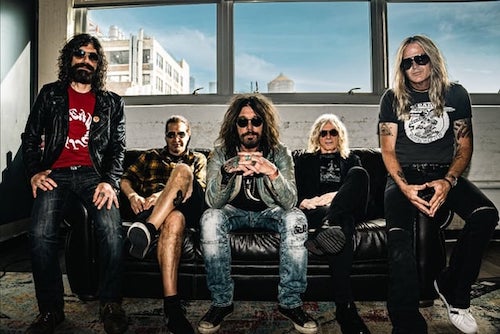 John Corabi, former lead singer of Mötley Crüe, The Scream and Union, has officially rejoined the rock 'n' roll collective known as The Dead Daisies. The band's current lineup is rounded out by founder/guitarist David Lowy, guitarist Doug Aldrich and drummer Brian Tichy, along with former Whitesnake bassist Michael Devin playing with The Dead Daises for the first time.
Ten years ago, The Dead Daisies burst on to the music scene with a mission to gather some of the finest musicians in the world and simply put, play some good old-fashioned, no-bullshit rock and roll. After a decade of recording and touring the planet, there have been some incredible one-offs and special highlights including sharing stages with some of the world's biggest rock bands. To mark this milestone, a collection of songs from six of the band's previous studio albums have been chosen. The upcoming Best Of album release will include some of the collective's favorite tracks and others that have become a staple part of every touring setlist. Two previously unreleased tracks from the last recording session are also included. It will be available on double CD and vinyl on August 18th.
To celebrate a decade of rock, the band will begin in late August with some dates in Canada and the USA. Late October will see them head back to Japan followed by dates in Europe throughout November and December.
Lowy says, "It's been an amazing decade with The Daises! We've rocked out with some of the best in the business, toured the globe, released eight albums and are thrilled to be showcasing the body of work from over the last decade with our upcoming Best Of album release and tour. I'm excited to be welcoming John Corabi back to the band. Can't wait to get back on the road again in 2023 to perform for our fans."
For a complete list of tour dates, visit TheDeadDaisies.com.
Best Of listing:
Disc 1:

1.  Miles In Front Of Me
2.  Lock N' Load
3.  Face I Love
4.  Mexico
5.  Midnight Moses
6.  With You And I
7. Something I Said
8.  Fortunate Son
9.  Long Way To Go
10. Song And A Prayer
Disc 2:
1.  Make Some Noise
2.  Resurrected
3.  Rise Up
4.  Holy Ground (Shake The Memory)
5.  Unspoken
6.  Bustle And Flow
7.  Hypnotize Yourself
8.  Born To Fly
9.  The Healer (previously unreleased track)
10. Let It Set You Free (previously unreleased track)
Corabi joined The Dead Daisies in early 2015 and remained in the group until January 2019, during which time he recorded three studio albums with the band: Revolución (2015),Make Some Noise (2016) and Burn It Down (2018). In the summer of 2019, the band announced that they were being joined by legendary Deep Purple and Black Country Communion bassist/vocalist Glenn Hughes, who appeared on the band's last two studio albums, 2021's Holy Ground and 2022's Radiance.