SINGER AXL ROSE SAYS HE CALLED AC/DC TO "OFFER HIS HELP" AND ADMITS THAT SINGING THE "BACK IN BLACK" MATERIAL IS "REALLY CHALLENGING"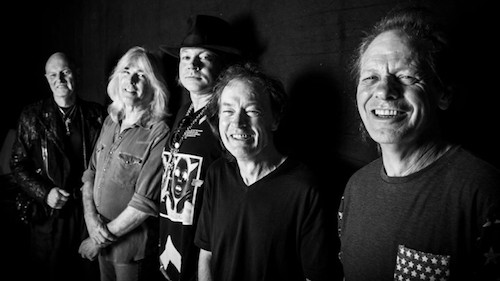 Matt Everett of BBC 6 Music News reports:
In his first interview in five years, the Guns N' Roses star told BBC 6 Music he was huge fan of Johnson's singing and "wants to do it justice."
Rose was drafted in after Johnson was advised to stop playing live or "risk total hearing loss". He makes his debut with the band in Lisbon, Portugal, on May 7th.
"I'm happy and excited in one sense, but I think it would be inappropriate to be celebrating, in a certain way, at someone else's expense," he said. "That's not what I'm here to do. It's an unfortunate situation."
…Rose also confirmed it was his idea to approach AC/DC about helping them complete the last 12 dates of their world tour.
"I called the day I read about it in the news, that there was a situation going on with Brian's hearing," he said.
"I called a guy who's their production manager… because I knew there was going to be a problem with having dates on sale and dates sold and stuff like that. So, if I could help, and if I was able to do it, and they were interested, I'd love to help. And that's how it started. I wasn't looking at it like, 'I'm singing for AC/DC.' I was looking at it like, 'y'know, if I can, and if they think I'm able to do it."
Rose also said he didn't know whether he would be able to sing some of the songs in the set.
"A lot of the Back In Black stuff is really challenging. I'm not here in any way out of any disrespect to Brian. I can't take anything away from his singing at all," he said. "He's a great singer and it's really challenging to sing it. I'm just trying to do it justice for the fans."
Rose will be alternating between shows with the Australian band and Guns N' Roses, who are on tour with original guitarist Slash for the first time since the 1990s.
Read more at BBC 6 Music News.
source: bbc.com