SECOND ANNUAL "RIDE FOR RONNIE" MOTORCYCLE RALLY & CONCERT SET FOR SUNDAY, MAY 22ND TO BENEFIT RONNIE JAMES DIO STAND UP AND SHOUT CANCER FUND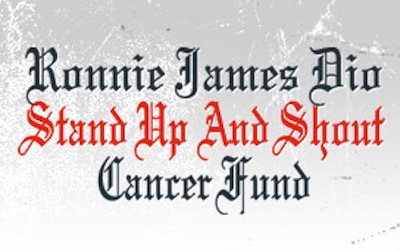 The second Annual Ride For Ronnie Motorcycle Ride and Concert, benefiting the Ronnie James Dio Stand Up and Shout Cancer Fund, will take place on Sunday,
May 22nd, 2016. Riders will assemble for a continental breakfast at Harley-Davidson of Glendale with kickstands up at 11AM. The Ride will take them through the streets of Los Angeles County to Los Encinos Park in Encino, where they will be treated to an afternoon of live music, raffle and live auction, food trucks and more. The Inaugural Ride, held in May 2015 as part of a weekend of events commemorating the 5th anniversary of the passing of Ronnie James Dio, contributed to raising $155,000 for the cancer charity from that weekend's events.
Live entertainment in the park will be provided by rockers Great White, Lita Ford, Dio Disciples, Gabbie Rae, Budderside, Sonia Harley, and Doctors Of The Earth.
A live auction will be held during the concert that will include a stage-played guitar donated by Chris Broderick of Megadeth with autographed photos of Chris playing the guitar and a B.C. Rich guitar signed by Ronnie James Dio, Rob Halford (Judas Priest), Bruce Dickinson (Iron Maiden), King Diamond and Geoff Tate.
The Dio Cancer Fund hosted a free street party on March 5 at Harley-Davidson of Glendale to pre-register riders for the 2016 Ride For Ronnie event and to draw the winning ticket for a one-of-a-kind Holy DiverHoly Diver album.
Both riders and concert-goers can purchase their tickets by visiting, diocancerfund.org/events.
Pre-Registration Prices:
$30/rider (includes concert admission)
$10/passenger (includes concert admission)
$20 concert admission only
Day of Event Prices:
$35/rider (includes concert admission)
$15/passenger (includes concert admission)
$25 concert admission only
2016 Ride For Ronnie Motorcycle Ride and Concert Schedule:
Sunday, May 22, 2016:
Ride:
9:00am – 10:45am: Rider Check-In & On-Site Registration
9:00am – 10:30am Continental Breakfast
Kickstands up at 11:00am
Harley Davidson of Glendale
3717 San Fernando Rd., Glendale, CA 91204
Concert:
11:30AM – Gates open
11:45AM- 5PM Concert
Los Encinos State Historic Park
16756 Moorpark Street Encino, CA 91436