SEBASTIAN BACH SAYS THAT SINGING IS "A DYING ART"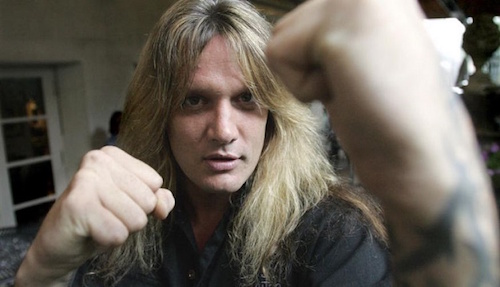 Singer Sebastian Bach was recently interviewed and was asked what he thought was when he first heard that Axl was going to be replacing [Brian] Johnson on the road with AC/DC.
Bach replied, [as per Blabbermouth.net], "I was jealous that I didn't get a chance, 'cause I can f–kin' sing AC/DC pretty f–kin' good too, and I'm not just saying that. [Laughs] So, at first, I was, like, 'F–k, man!' I was jealous. But then, of course, I understand, obviously, why he would ge the gig — because people don't know how to sing anymore; it's like a dying art."
Bach then discussed that there aren't really any new great rock vocalists, saying: "Maybe I haven't heard any, but where is the new Jeff Buckley? Or where's the new Steve Tyler? Okay, Geta Van Fleet — there's the new Robert Plant; that's for sure right there. But there's a lack of original-sounding heavy metal vocalists. Unless I'm not hearing any. But I don't know.
To me, when we were all starting out in the '80s, we all knew that we had to have our own sound. That was the goal of every musician back then — because there was no such thing as Pro Tools or computers. I had to find my own vocal sound, of Sebastian Bach. And I was even working on that… Even when I first got in Skid Row, Jon Bon Jovi said, 'Sebastian, sometimes you sound like Vince Neil, sometimes you sound like [Ronnie James] Dio, sometimes you sound like [Rob] Halford, sometimes you sound like Neil Diamond.' [Laughs] He goes, 'You have to find your own sound.' And it freaked me out. I was, like, 'Fuck! I have to do this, like, right now!' [Laughs] I have to find what is the Sebastian Bach vocal sound.
Making the first Skid Row record, my two favorite singers were Rob Halford and Steve Perry, and if you listen to 18 And Life, you can hear the influence. You can hear I Remember You is influenced by Journey, the vocals. I can hear it — maybe you can't, but I can hear it."
Sebastian is currently on tour, see the remaining dates below.
Sebastian Bach Home Away From Home 2018 Tour Dates:
Special Guests: The Standstills
June 29 Kingston Ontario @ The Ale House & Canteen
June 30 Waterloo Ontario @ Maxwell's
July 2 Montreal Quebec @ Les Foufounes Electriques SOLD OUT
July 4 Halifax Nova Scotia @ Casino Nova Scotia
July 5 Moncton New Brunswick @ Molson Canadian Centre at Casino New Brunswick
July 7 Quebec City Quebec @ Festival d'ete De Quebec
July 8 Poughkeepsie NY @ The Chance
July 10 Cleveland, OH @ Agora Ballroom
July 12 Fort Wayne, IN @ Piere's Entertainment Center
July 13 Chicago, IL @ Concord Music Hall
July 14 Woodhaven, MI @ Uncle Sam Jam
August 18 Imperial Nebraska @ Chase County Fair
September 29 Las Vegas Nevada @ Fremont Street Experience