SCORPIONS RELEASE NEW SONG, "SEVENTH SUN," NEW ALBUM "ROCK BELIEVER" OUT FEBRUARY 25TH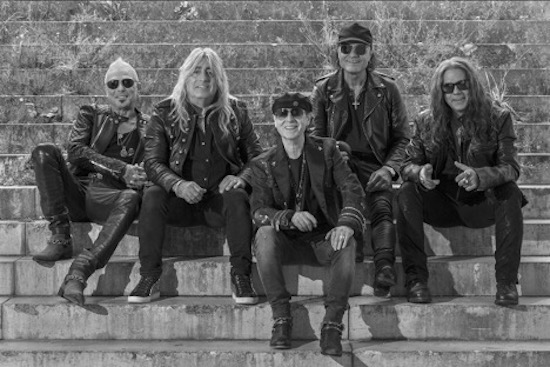 The Scorpions have shared their new single, Seventh Sun. The song is taken from the band's 19th studio album, Rock Believer, which will be released on February 25th, stream it, below.
From the very first note of Seventh Sun, guitarist Rudolf Schenker and his Flying V manage to spectacularly draw us into this powerful song in an almost mystical way, much in the tradition of Scorpions classics such as Animal Magnetism and China White.
Three months ago, the band released the official music video for Rock Believer's first single, Peacemaker, which can be heard here. That was followed by the albums title track, which can found here.
Rock Believer song listing:
1. Gas In The Tank
2. Roots In My Boots
3. Knock 'Em Dead
4. Rock Believer
5. Shining Of Your Soul
6. Seventh Sun
7. Hot And Cold
8. When I Lay My Bones To Rest
9. Peacemaker
10. Call Of The Wild
11. When You Know (Where You Come From)
12. Shoot For Your Heart
13. When Tomorrow Comes
14. Unleash The Beast
15. Crossing Borders
2022 Rock Believer tour dates:
Mar. 26 – Zappos Theater – Las Vegas, NV
Mar. 30 – Zappos Theater – Las Vegas, NV
Apr. 1 – Zappos Theater – Las Vegas, NV
Apr. 3 – Zappos Theater – Las Vegas, NV
Apr. 7 – Zappos Theater – Las Vegas, NV
Apr. 9 – Zappos Theater – Las Vegas, NV
Apr. 12 – Zappos Theater – Las Vegas, NV
Apr. 14 – Zappos Theater – Las Vegas, NV
Apr. 16 – Zappos Theater – Las Vegas, NV
May 10 – Altice Arena – Lisbon, Portugal
May 13 – Zenith Toulouse Metropole – Toulouse, France
May 15 – Zenith De Lille – Lille, France
May 17 – Accorhotels Arena – Paris, France
May 21 – Hallenstadion – Zurich, Switzerland
May 23 – Arena Di Verona – Verona, Italy
May 26 – O2 Arena – Prague, Czech Republic
May 28 – Tauron Arena – Kraków, Poland
May 30 – Laszlo Papp Sports Arena – Budapest, Hungary
Jun. 3 – Rockfest – Helsinki, Finland
Jun. 8 – Schleyerhalle – Stuttgart, Germany*
Jun. 10 – Olympiahalle – Munich, Germany*
Jun. 12 – Festhalle – Frankfurt, Germany*
Jun. 16 – Mercedes-Benz Arena – Berlin, Germany*
Jun. 17 – Zag Arena – Hannover, Germany*
Jun. 19 – Westfalenhalle – Dortmund, Germany*
Jun. 23 – Hellfest – Clisson, France
Jun. 25 – Rock Imperium Festival – Cartagena, Spain
Jun. 28 – Palais Nikaia – Nice, France
Jun. 30 – Le Galaxie – Amneville, France
Jul. 02 – Zenith D'Auvergne – Clermont-Ferrand, France
* with Mammoth WVH