SAXON'S BIFF BYFORD DISCUSSES THEIR FORTHCOMING COVERS ALBUM, KISS, THE NEW WAVE OF BRITISH HEAVY METAL AND THE BAND'S SUDDEN RESURGENCE IN POPULARITY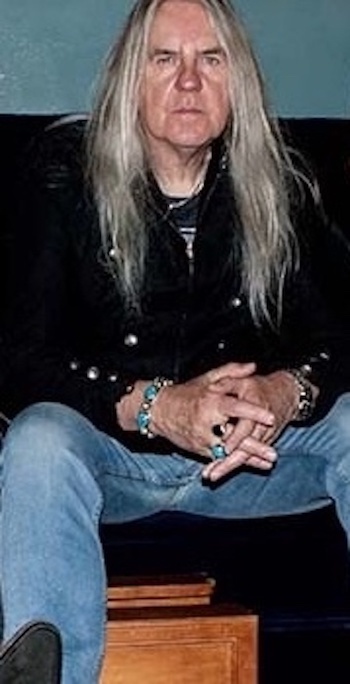 Greg Prato for ALLMUSIC spoke with Saxon frontman Biff Byford, excerpts from the interview appear below.
AllMusic: At what point did you decide to do a follow-up to Inspirations (covers album)?
Byford: Not long after we made the first one, actually. We had good fun recording it and it was still more or less in the Covid period – so we had a bit of time on our hands. We had so many bands that we didn't put on the first one – so many influences and inspirations. So, I made another list. But we could probably do five Inspirations, really. Every song on the albums – the first and second Inspirations – are all connected in some way to Saxon and its members.
AllMusic: Which songs hold the most personal significance for you?
Byford: All of them do really, because they all have little stories. It's like the Animals – I was learning to play guitar and bass guitar, and that song was the first song I ever heard that started with bass guitar, really. I'd been learning that riff that began, We've Gotta Get Out of This Place. It was quite a big influence on me as a young bass player back in the day. 'Faith Healer' – the first single (listen to it here) – I used to see the Sensational Alex Harvey Band in the '70s. Me and Paul Quinn used to go see them in the local theaters. They were a big influence on the band – they were very theatrical. People should check them out if they've never heard of them. Great learning days, really.
AllMusic: One of the tracks is KISS' Detroit Rock City. Is it true that in the '70s KISS was not as popular in the UK as they were in the US?
Byford: I think they were popular – but they weren't as "mega-big" there as they were in the US. And I think they were pretty big in Australia in that period. I liked KISS…I wasn't really a big fan of KISS, but our drummer was, Nigel [Glockler]. But my favorite KISS song is Detroit Rock City. And Nigel was influenced by KISS, so I put that song on for Nigel, really. I've met Gene Simmons in the '80s. I think he was a fan of the band and the Wheels of Steel album. He was producing quite a few bands then, and I think he was using Saxon as one of the examples.
AllMusic: Looking back at the New Wave of British Heavy Metal today, was there a healthy sense of competition between the bands, or was it unified?
Byford: I think there's always competition in music. You're sort of fighting for your band to do well. It's the same at a festival situation where there are many bands on. Bands are always trying to be the best band on the festival, regardless of where they are on the bill – whether they're opening the festival or headlining the festival. Everybody wants to do well. So, I think there is a healthy competition there. But I think bands love each other, as well. They love each other's music – especially if it's in the same genre. So yeah, I think there was a healthy competition…but I think it's a friendly competition.
AllMusic: What do you attribute to what seems like a reappreciation of Saxon's music in recent times – especially in the States?
Byford: Up to Covid, we were working a lot in the States. We were doing our own shows, we did a couple of tours with UFO, we did a big tour with Motörhead on Lemmy's last tour, we did a huge tour with Judas Priest. So, a lot of our fans from the '80s were rediscovering us and we were making lots of new fans. I think our profile in America is pretty good at the moment – we're just looking for a nice tour to get there, so we can play some decent venues…rather than just Sally's Fish Bar or something. It's always on our mind to go to America. I think streaming is good from the States, people watch our videos there, we have a lot younger fans that got into us from the touring and social media.
AllMusic: How does touring compare now to in the '80s?
Byford: It's always hard touring – even when you're quite young. All the traveling does take its toll – especially if there are no days off. Endless shows one after the other. I just read an article on [Rolling Stones guitarist] Keith Richards, and he was saying that the memory and energy of the audience from the night before keeps you going to the next gig – and I think that is very true. I think the whole "touring rock band thing" you take with you – the audience from the night before and their energy and their love for the band makes you want to do another show. It doesn't really make you want to get on the plane or get on the tour bus, but it wants you to play the show.
Read more at ALLMUSIC.
To read more details about Saxon's second covers record, More Inspirations, please click here. More Inspirations will be released on March 24th.