SAXON TO RELEASE "THE SOLID BOOK OF ROCK' ON AUGUST 18TH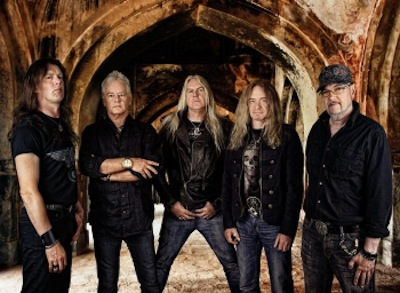 Saxon have will release a new box set next month, titled The Solid Book Of Rock.
It will be released on August 18th through Edsel and include the albums Solid Ball Of Rock, Forever Free, Dogs Of War, Unleash The Beast, Metalhead, Killing Ground, Lionheart, The Inner Sanctum and Into The Labyrinth along with a host of bonus content.
A statement reads, "The set comprises 14 discs – not only all nine of Saxon's studio albums from 1991 to 2009 but eight bonus tracks and two bonus CDs – Classics Re-Recorded originally issued with the initial pressings of Killing Ground, and a Lionheart rough studio mix which was originally issued on the 2006 limited edition."
The package also contains three bonus DVDs featuring documentaries, interviews, live performances, promos and studio footage which were originally issued with Lionheart, The Inner Sanctum and Into The Labyrinth.
Also included, is the 2007 Pablo Aragues-directed Spanish art film, Perceval, which stars Saxon frontman Biff Byford as King Arthur.
The Solid Book Of Rock will be packed in a 24-page, 12×12 booklet featuring lyrics, credits and photographs, while Paul R Gregory has designed new cover artwork for the collection.
Buford says. "It's worth getting just for the artwork. A great piece of Saxon history – and don't forget I get to play King Arthur. I didn't get the Oscar that year – or anything else for that matter."
A limited edition version containing a print signed by Byford is exclusively available for pre-order through Amazon.