SAXON ANOUNCES NORTH AMERICAN TOUR DATES WITH SPECIAL GUEST FOZZY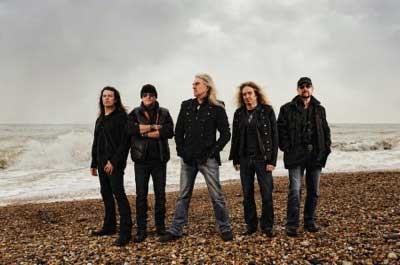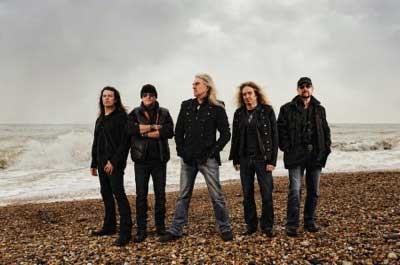 Saxon have announced a North American tour which will run from September 12th until October 10th and will feature support from Fozzy.
The group is touring in support of its critically acclaimed new album, Sacrifice, but promises to play all of the fan favorites from its 30-plus-year catalog, including tracks like Denim & Leather", Wheels Of Steel, Ride Like The Wind, Motorcycle Man and Heavy Metal Thunder, all of which have cemented the band's legendary status. All videos have over 8 million collective clicks on YouTube and the band has sold over 12 million albums.
North American Saxon fans will also have the option for a rare opportunity to meet-and-greet with the band, a limited number of VIP packages are available at Saxon747.com.
Comments Saxon's Biff Byford: "We're really glad to anounce a new tour of North America and Canada with the Sacrifice world tour! The album has done fantastic around the world! We can't wait hit your shores with the Saxon invasion with very special guest Fozzy. It should be a fantastic tour for all metalheads. We have been friends with Chris Jericho for years, so there has never been a better time to hook up with Fozzy for a tour that will take us from the East Coast to the West Coast and finally winding up in the Great White North."
Adds Fozzy's Chris Jericho: "After our highly successful U.S. tour last summer on Uproar, we've been chomping at the bit for the right opportunity to return to North America… and now it has arrived! To tour with the legendary Saxon is a metal dream come true and the perfect way to satisfy all of our AMAZING fans in the U.S. and Canada and to make tons of new ones in the process. Get ready for Sacrifice And Sin…we're gonna tear your heads off and leave you screaming Fozzy, Fozzy, Fozzy!!"
Opening support on the tour will be Halcyon Way.
Saxon/Fozzy tour dates:
Sep. 12 – Patchogue, NY @ The Emporium
Sep. 13 – New York, NY @ BB King Blues Club & Grill
Sep. 14 – Montreal, QUE @ Corona Theater
Sep. 15 – Toronto, ONT @ The Phoenix
Sep. 17 – Reading, PA @ Reverb
Sep. 18 – Cleveland, OH @ Peabody's
Sep. 19 – Dayton, OH @ McGuffy's
Sep. 20 – Flint, MI @ Machine Shop
Sep. 21 – Joliet, IL @ Mojoe's
Sep. 22 – Milwaukee, WI @ The Rave
Sep. 26 – Dallas, TX @ House Of Blues
Sep. 27 – San Antonio, TX @ Backstage Live
Sep. 28 – Houston, TX @ House Of Blues
Oct. 1 – Tempe, AZ @ Club Red
Oct. 2 – Long Beach, CA @ Gaslamp
Oct. 3 – Ramona, CA @ Ramona Mainstage
Oct. 4 – Los Angeles, CA @ House Of Blues
Oct. 5 – Corona, CA @ M15
Oct. 6 – San Francisco, CA @ DNA Lounge
Oct. 8 – Seattle, WA @ Studio Seven
Oct. 9 – Portland, OR @ Mt Tabor
Oct. 10 – Vancouver, BC @ The Venue