SASS JORDAN HONORS DRUMMER TAYLOR HAWKINS WITH RELEASE OF "HIGH ROAD EASY" FROM FORTHCOMING ALBUM, "LIVE IN NEW YORK NINETY-FOUR"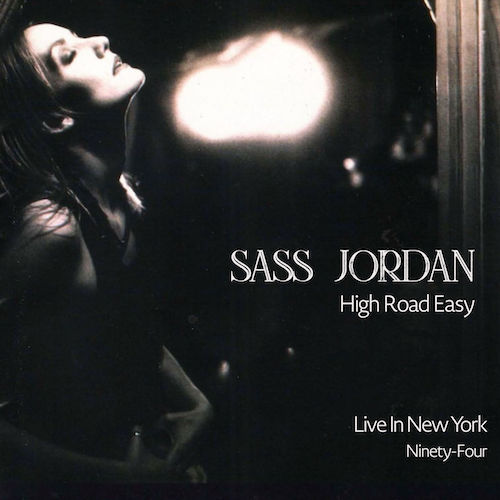 Sass Jordan's breakthrough album, Racine, was released in 1992 and yielded the Canadian hit singles Make You a Believer, I Want to Believe–both ranked on Billboard magazine's Mainstream Rock chart–You Don't Have to Remind Me, and Goin' Back Again. In 1994, Jordan released Rats, which yielded  her first song on the Billboard Hot 100 with the single Sun's Gonna Rise, and also featured High Road Easy.
Now Jordan has teamed up with Deko Entertainment to take a look back at the Rats tour with the upcoming release of Live in New York Ninety-Four, which was recorded at the South Street Seaport in NYC during that 1994 tour. The band at that time, along with Jordan, consisted of Tony Reyes (bass, vocals), Taylor Hawkins (drums, vocals), Nick Lashley (guitar), and Stevie Salas (guitar). The full album will drop digitally on April 28th, to be followed up by a limited-edition vinyl release with preorders going on sale April 15th.
The first single off the album is High Road Easy, which Jordan shares, is a celebration of the early days in the career of Hawkins, future Foo Fighters drummer. Jordan says, "As we hit the milestone that marks one year since Taylor left us, I wanted to do something to honor his memory–a recognition and appreciation for his glorious, big, beautiful energy–which lives on through this recording and in all of our hearts. That's why we offer this now …. This particular song, High Road Easy, was in its infancy in those days–you can really hear it in the way the band attacks and tears it to pieces–rampaging through its whole length like the pack of road dogs that we were…"
Listen to High Road Easy, here. [Dana's note: I received a gratis copy, of her "Ratt" recording on cassette, when I interned for Circus Magazine. I had no expectations and was blown away by Sass's voice. "High Road Easy" was my favorite, and I will include the video for the song below, as well].
Pre-save Live In New York Ninety-Four here, and get updates on the vinyl release, here. 
Live in New York Ninety-Four track list:
Intro
Damaged
Make You a Believer
Moonage Daydream
Head
Sun's Gonna Rise
You Don't Have to Remind Me
High Road Easy
Pissin' Down
Ugly
Follow Sass online at her official website.