SAMMY HAGAR TO RING IN 70TH WITH A LITTLE HELP FROM HIS FRIENDS & REDHEADS AT 27th ANNUAL BIRTHDAY BASH OCTOBER 9TH, 11TH, 13TH, & 14TH AT CABO WABO CANTINA IN CABO SAN LUCAS, MEXICO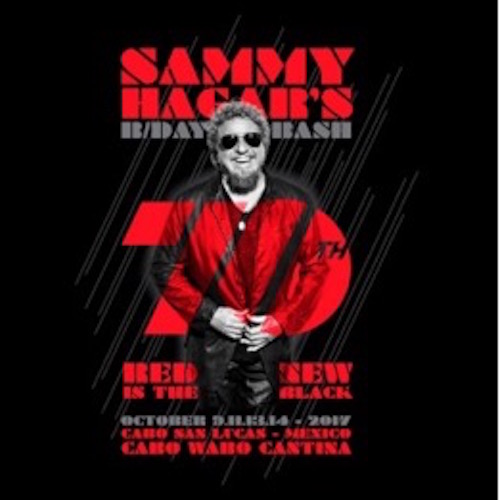 Sammy Hagar, the "Hall of Fame" rock & roller, partier and entrepreneur is about to chalk up another milestone on October 13th when he turns 70. The Red Rocker has just announced plans for an epic 4-night birthday bash, October 9th, 11th, 13th and 14th at the Cabo Wabo Cantina in Cabo San Lucas, Mexico — home to the legendary concert celebration since he opened it's doors in 1990. Due to overwhelming demand, tickets for the bash will be chosen via a lottery style drawing with registration now open at RedRocker.com.
"It would be impossible to pick my favorite year but I got a feeling it's still to come," Hagar added.
The annual event always draws some of the biggest names in entertainment – some will be announced in the coming months and many will be a surprise, even for Sammy this year. Past performers and partiers at the Cabo Wabo Cantina include: Van Halen, Kenny Chesney, Iggy Pop, Stevie Wonder, David Crosby, Bob Weir, Ann & Nancy Wilson, Tommy Lee, James Hetfield, Lars Ulrich, Dave Grohl, Slash, John Entwistle, Toby Keith, John Mayer, Stephen Stills, Duff McKagan, Matt Sorum, Chris Issak, Roger Taylor, Joan Jett, Adam Levine, Mick Jones, Denny Carmassi, Emeril Lagasse, Jerry Cantrell, Chad Smith, Steve Jones, Guy Fiere, Zakk Wilde, Alex Gonzalez, Denny Carmassi and many more.
For more information, please visit cabowabocantina.com or redrocker.com.