ROB HALFORD'S "THE COMPLETE ALBUMS COLLECTIONS" TO BE RELEASED ON MAY 19TH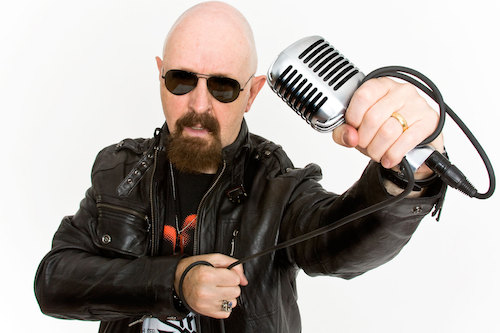 There are countless reasons why Rob Halford is known worldwide as "The Metal God." But at the top of the list would be his pioneering singing style, songwriting talents, and a fashion sense that has inspired countless heavy metal artists over the years.
And in addition to co-creating Judas Priest's outstanding body of work, he has also issued music outside of the beloved legendary Birmingham band — which is precisely what the new 14-CD boxset, The Complete Albums Collection, showcases.
Included are four albums by the ferociously thrash-inspired Fight, as well as the lone album by the industrial-inspired 2WO (which featured future Rob Zombie and Marilyn Manson guitarist John 5, and saw Nine Inch Nails' Trent Reznor serve as executive producer), plus seven titles from the solo band Halford, which saw the Metal God gloriously return to pure, unadulterated metal.
Due on May 19th through Legacy Recordings, The Complete Albums Collection features the following:
Fight:
* K5: The War Of Words Demos (recorded 1992, released 2007)
* War Of Words (1993)
* Mutations (1994)
* A Small Deadly Space (1995)
2WO:
* Voyeurs (1998)
Halford:
* Resurrection (2000)
* Live Insurrection (2 CDs, 2001)
* Crucible (2002)
* Live In Anaheim (2 CDs; recorded 2003, released 2010)
* Halford III: Winter Songs (2009)
* Halford IV: Made Of Metal (2010)
* Live At Saitama Super Arena (2011)
With the arrival of The Complete Albums Collection, metal fans will now have the definitive collection of Rob Halford's stellar work outside of the mighty Judas Priest, all in one set.
Halford's last studio album, Halford IV: Made Of Metal, came out in 2010. Seven of the album's 14 tracks were entirely written by Halford, the first time he had taken the musical reins on a project since the 1993 Fight album War Of Words.
"As a musician, you can't control these things when they happen to you," Halford explained to MTV at the time of the album's release. "The ideas just take over your body and it can be pretty scary. You've got to get them down quickly. It feels like there's a spark you have to grab, like lightning in a bottle, and if you don't get it down, there's a chance it's going to escape. So, for two weeks, these things kept flooding through my brain. And then suddenly, they stopped and that's when I got together with [guitarist] Roy [Z], [guitarist] Metal Mike Chlasciak, [bassist] Mike Davis, and [drummer] Bobby Jarzombek and came up with the other songs."