RILEY'S L.A. GUNS RELEASES NEW TRACK "OVERDRIVE," LISTEN TO IT HERE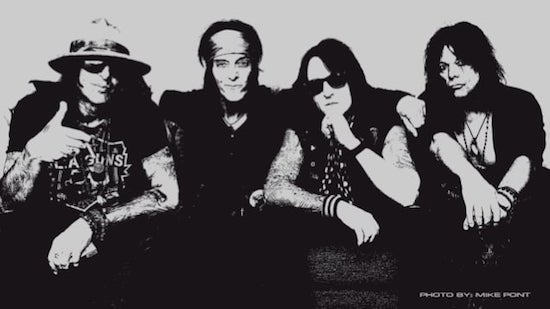 Riley's L.A. Guns has released a new single, Overdrive, digitally via Golden Robot Records. The riff-filled track is taken from the band's upcoming sophomore album, The Dark Horse, tentatively due mid-2023.
Overdrive marks a new era for Riley's L.A. Guns, with an atmospheric approach to it. The track is highly energized from the get-go with no shortage of the instrumental breaks you love and the tantalizing vocals that keep engaged throughout the song.
Golden Robot CEO and president Mark Alexander-Erber has had this marked as one of the highlights of the year for his label's release calendar, commenting, "All this bullshit that rock is dead, just have a listen to this killer new single from Riley's L.A. Guns and it's proof that it's not only alive but it's screaming and yelling the house down."
Drummer Steve Riley said, "We are so excited about this second album from the band, The Dark Horse, and we feel we really took it up a notch with the songwriting, performances, and production after our well-received first album Renegades. This first single, Overdrive, is a balls-out rocker and a great way to open this new album. We know you guys are going to love it, and we can't wait to see you out on the road in 2023."
Riley's L.A. Guns features Riley alongside Orlando, Florida-based guitarist/vocalist Kurt Frohlich, bassist Kelly Nickels (a member of L.A. GUNS' "classic" incarnation) and guitarist Scott Griffin, who played bass for L.A. Guns from 2007 until 2009, and then again from 2011 to 2014.
L.A Guns bandmembers Tracii Guns, and singer Phil Lewis, were in an ongoing legal dispute with Riley, over the use of band name L.A. Guns. A settlement was reached in April of 2012 with an official statement that read:
"Plaintiffs Tracii Guns and Philip Lewis and defendants Stephen Riley, Kelly Nickels, Kurt Frolich, and Scott Griffin have agreed to settle the trademark litigation currently pending in the U.S. District Court in the Central District of California. Under the terms of the settlement agreement, the parties have agreed to dismiss the pending lawsuit. Mr. Guns and Mr. Lewis will continue to operate under the L.A. Guns trademark, while Mr. Riley and his bandmates will now operate under the new name, Riley's L.A. Guns and a new logo. Both bands look forward to continuing to record and perform their new music, as well as continuing to include songs from the vintage L.A. Guns catalog for their fans. Both groups' recordings will continue to appear together on Spotify and other digital music streaming services. –Attorneys Erik J. Foley and G. Warren Bleeker, counsel for Tracii Guns and Philip Lewis; and Attorney S. Martin Keleti, counsel for Stephen Riley, et al."