REVOLUTION SAINTS TO RELEASE NEW ALBUM, "LIGHT IN THE DARK," ON OCTOBER 13TH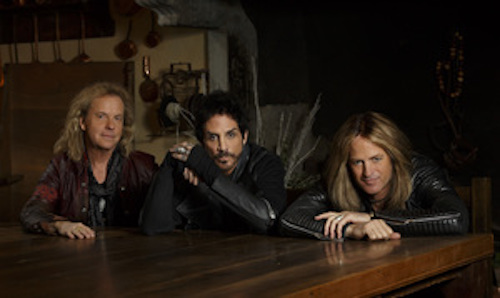 After the 2015 release of the self-titled debut album by Revolution Saints–Deen Castronovo (ex-Journey, Bad English), Doug Aldrich (The Dead Daisies, ex-Whitesnake, DIO), Jack Blades (Night Ranger, Damn Yankees)—rock fans around the world rejoiced at the inspired musical offering. Those fans will, once again, have cause for celebration as Revolution Saints will be releasing their second album later this year. The band has released a video for the title track to the new album, which can be seen, below.
Light In The Dark is due out October 13th on Frontiers Music Srl. The album will be available on CD, CD/DVD Deluxe Edition (includes live bonus tracks on the CD and on the DVD, footage from the band's first-ever live performance captured at Frontiers Rock Festival in Milan this past April, a "Making Of" mini-documentary, and music videos for Light In The Dark and I Wouldn't Change A Thing), Vinyl, and as a special Limited Edition Box Set (includes the Deluxe Edition CD/DVD, 180g Vinyl, T-shirt (size L), poster, lithograph and sticker). Pre-orders for all formats can be made at the following locations:
Amazon
iTunes
Google Play
Frontiers
*Also streaming on Spotify
For Light In The Dark, Revolution Saints once again teamed up with producer/songwriter Alessandro Del Vecchio (Hardline, JORN), who was also behind the boards for the band's debut album. Most of Light In The Dark was recorded at Del Vecchio's studios in Somma Lombardo, Italy, with additional recording taking place at Blades' studio in Washington, Aldrich's CasaDala studio in Los Angeles, and other countries all over the world while Aldrich was on tour with The Dead Daisies.
"This is a fun band" exclaims bassist Jack Blades. "I think the fans are going to pick up on the excitement and the shear musical enjoyment we are having. It was great going to Italy to get the album started and film the videos, and the music speaks for itself."
"Light In The Dark is such a great song," continues singer/drummer Deen Castronovo. "It was the first one we recorded. We ran through it a few times and nailed it in the first couple takes. We're so excited for everyone to hear this record. We're very happy with what we came up with and can't wait to bring it to everyone live."
As guitarist Doug Aldrich proclaims, "I'm very excited about Revolution Saints' second record. First I want to say that it's because of huge support from the fans that RS2 happened. Thank you. If you liked [the first], I think you'll love this one even more. It's stronger, and a bit heavier in some spots. We tried a few new things and we can't wait for our fans to hear it! There's a very good chance we'll finally get to play live and we're currently exploring the possibilities of a tour. For now, get ready, because the album kicks ass and it's comin' at you real soon."
Light In The Dark builds off the classic melodic rock style of the debut, but fans should prepare for a somehow even more inspired set and a few (pleasant) surprises. Inspiring, uplifting, emotionally powerful, and thoughtful, this album WILL be the soundtrack to many a moment in your life.
Light In The Dark track listing:
1. Light In The Dark
2. Freedom
3. Ride On
4. I Wouldn't Change A Thing
5. Don's Surrender
6. Take You Down
7. The Storm Inside
8. Can't Run Away From Love
9. Running On The Edge
10. Another Chance
11. Falling Apart
12. Back On My Trail (live, bonus track on deluxe edition only)
13. Turn Back Time (live, bonus track on deluxe edition only)
14. Here Forever (live, bonus track on deluxe edition only)
15. Locked Out Of Paradise (live, bonus track on deluxe edition only)
Bonus DVD contents:
–Revolution Saints live at Frontiers Rock Festival (Back On My Trail, Turn Back Time, Here Forever, Locked Out Of Paradise)
–Making of Light In The Dark (documentary)
—Light In The Dark (song video)
—I Wouldn't Change A Thing (song video)
For more information, please visit facebook.com/RevolutionSaints.