RAVEN ANNOUNCE 40TH ANNIVERSARY NORTH AMERICAN TOUR FOR THEIR "WIPED OUT" ALBUM, STARTING SEPTEMBER 22ND IN FLORIDA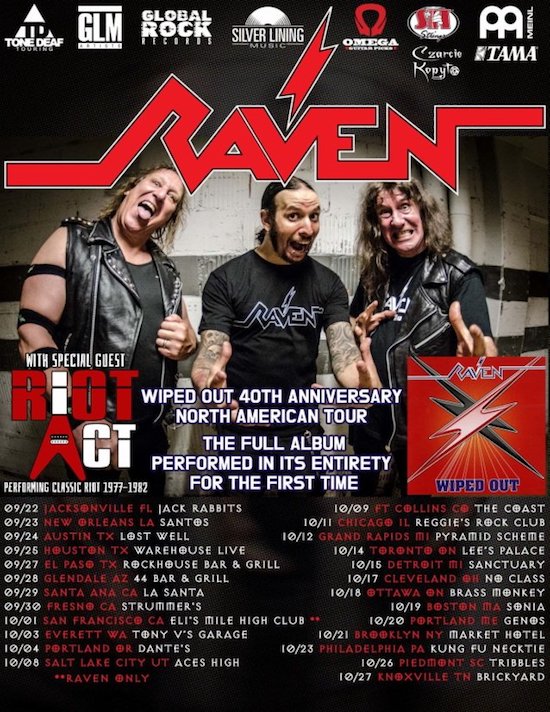 Raven will celebrate the 40th anniversary of their iconic record Wiped Out by playing the album in full on a North American tour this fall. Support on the trek will come from Riot Act, which will perform a Riot repertoire from legendary band's classic era (1977-1982).
Raven bassist/vocalist John Gallagher comments, "[I'm] really looking forward to playing one of my personal favorite Raven albums, Wiped Out, in its entirety on this upcoming North American tour. There are a few songs on the album we never got to ever play live so that's gonna be a blast."
Tour dates:
Sep. 22 – Jack Rabbits – Jacksonville, FL
Sep. 23 – Santos – New Orleans, LA
Sep. 24 – Lost Well – Austin, TX
Sep. 25 – Warehouse Live – Houston, TX
Sep. 27 – Rockhouse Bar & Grill – El Paso, TX
Sep. 28 – 44 Sports Grill- Glendale, AZ
Sep. 29 – La Santa – Santa Ana, CA
Sep. 30 – Stummer's – Fresno, CA
Oct. 1 – Eli's Mile High Club – San Francisco, CA* RAVEN only
Oct. 3 – Tony V's Garage – Everett, WA
Oct. 4 – Dante's – Portland, OR
Oct. 8 – Aces High – Salt Lake City, UT
Oct. 09 – The Coast – Ft. Collins, CO
Oct. 11 – Reggie's Rock Club – Chicago, IL
Oct. 12 – Pyramid Scheme – Grand Rapids, MI
Oct. 14 – Lee's Palace – Toronto, ON
Oct. 15 – Sanctuary – Detroit, MI
Oct. 17 – No Class – Cleveland, OH
Oct. 18 – Brass Monkey – Ottawa, ON
Oct. 19 – Sonia – Boston, MA
Oct. 20 – Geno's – Portland, ME
Oct. 21 – Market Hotel – Brooklyn, NY
Oct. 23 – Kung Fu Necktie – Philadelphia, PA
Oct. 26 – Tribbles – Piedmont, SC
Oct. 27 – Brickyard – Knoxville, TN
Raven will also celebrate the 40th anniversary of its seminal album All For One with a U.K. tour in 2023.
Considered part of the "New Wave Of British Heavy Metal" movement of the early '80s, Raven is perhaps best remembered for its trailblazing tours in America in the early '80s that gave groups like Metallica and Anthrax their first taste of the road.
Raven's albums Rock Until You Drop, Wiped Out and the aforementioned All For One virtually invented both the speed metal and power metal genres, with the band consistently pushing the envelope while retaining its unique sound and attack — both in the studio and in their true element: onstage.
The band will release a new album, Leave 'Em Bleeding, on September 30th through SPV/Steamhammer.