RATT FRONTMAN STEPHEN PEARCY DOES NOT APPROVE OF USING PRECORDED TRACKS DURING LIVE PERFORMANCES, SAYS "I THINK IT'S BULLS–T"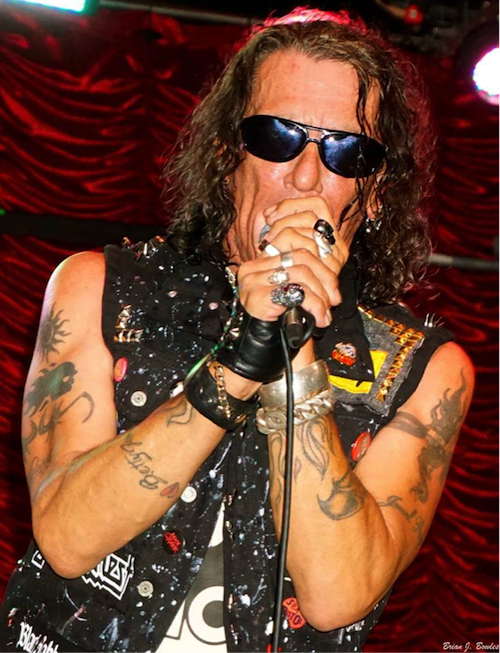 Ratt frontman, Stephen Pearcy, recently spoke with the Syncin' Stanley YouTube channel, through a Cameo video message, about the use of tapes, and lip synching, during band's live performances.
Pearcy said (via blabbermouth.net), "Well, there's artists who need that — the Taylor Swifts and all these other people, maybe. Maybe not even her; she's a real kind of gal."
"I think it's bullshit, really," he continued. "And my peers are doing that s–t.  love my guys in Mötley [Crüe], but when that shit [is] everywhere — on stage, and your bass is piped in — that kind of stuff kind of eats me. But it's not my gig. I don't do it. I wouldn't do it. I'm old school — new minded, but old school… I love the real s–t. But, you know, it is what it is."
Blabbermouth also added to the Pearcy story, which artists admit to using tapes, and those who are against the practice.
In March 2020, Shinedown guitarist Zach Myers said that "90 percent" of rock artists use at least some pre-recorded tracks during their live performances. He told Rock Feed, "It bothers me that it bothers people. I'm, like, 'Why does this bother you?' It's the way it is. People have been doing this since the '80s. And we want the sound to be the best it can be. Could we go up there, just the four of us, and put on the best rock show ever? Of course. But that's not how we wanna do it."
Former Skid Row singer Sebastian Bach has previously said that he is "one of the last people" who are still not using pre-recorded tracks at their live shows. "I don't know how much longer I can say to you that I don't use tapes onstage, because I don't, and I never have," he told Consequence Of Sound. "And I still don't. When I have opening bands, and they're using tapes, and then I come out and I don't use tapes… sometimes, it makes me feel stupid, because I'm like, 'What am I doing, when all these kids half my age can come onstage and do all of my moves, but they don't have to warm up for an hour before the show, or weeks, before the first show?' Sometimes, I'm like, 'Why do I even bother, if the public is so used to this other way?.."
In 2019, Iron Maiden guitarist Adrian Smith said that he doesn't "agree" with certain rock artists relying on pre-recorded tracks during their live performances. "I tell you what, I see it with a lot of younger bands, and I don't think it's a good thing at all," he told the New York Post. "I mean, the music is getting too technical now. You have computerized recording systems, which we use, but I think we use them more for convenience than because we need to. We've toured with a couple bands that use tapes — it's not real. You're supposed to play live; it should be live. I don't agree with using tapes … I think it's a real shame."
Mötley Crüe bassist Nikki Sixx, who said, "We've used technology since '87." He added the group employed "sequencers, sub tones, background vox tracks, plus background singers and us. [Mötley Crüe also taped] stuff we can't tour with, like cello parts in ballads, etc…. We love it and don't hide it. It's a great tool to fill out the sound."
In a 2014 interview, guitarist Mick Mars admitted that he wasn't comfortable with the fact that his band used pre-recorded backing vocals stating, "…I have to say '60s bands were my favorite — '60s and '70s bands — because they were real, like, three-piece bands or four-piece bands, and they just got up there and kicked it up. Made a mistake? So what? Sounded a little bit empty here or there? So what?…I could put on a Mötley CD and play with it all day long. I don't wanna do that."
Finally despite the fact that in 2015, KISS' bassist/vocalist Gene Simmons, claimed the band did not use tapes, stating, "There's nobody with a synthesizer on our stage, there's no samples on the drums, there's nothing. There's very few bands who do that now — AC/DC, Metallica, us. I can't even say that about U2 or The [Rolling] Stones. There's very few bands who don't use [backing] tracks."
Earlier this month, the band's longtime manager Doc McGhee, defended frontman Paul Stanley's vocal performances on the band's End Of The Road tour, explaining he "fully sings to every song" at every concert. but explained, "it's enhanced. It's just part of the process to make sure that everybody hears the songs the way they should be sang to begin with. Nobody wants to hear people do stuff that's not real, that's not what they came to hear."
When asked to clarify, he explained "there are backing tracks that [Paul is] singing to. He'll sing to tracks. It's all part of a process. Because everybody wants to hear everybody sing. But he fully sings to every song."