QUIET RIOT, FASTER PUSSYCAT, BULLETBOYS AND GUITARIST GILBY CLARKE TEAM UP FOR THE "BANG YOUR HEAD" TOUR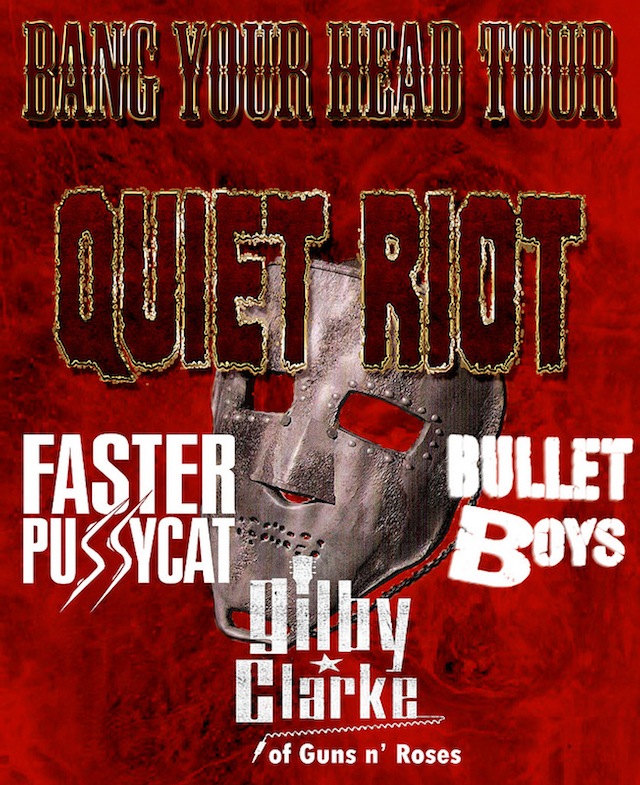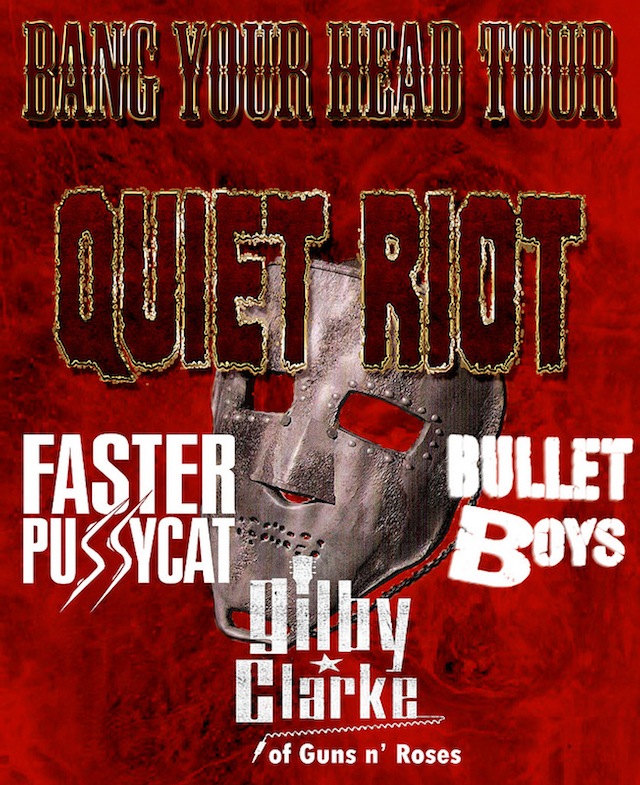 While there are many tours making their way across North America this summer, NONE will offer more bang for the buck than the Bang Your Head tour, four of Heavy Metal/Hard Rock's biggest brand names join forces for what will be a guaranteed evening not to miss every show.
Quiet Riot boasts the distinction of having the very first Heavy Metal album to debut at #1 on the Billboard charts, and they started the thriving Los Angeles scene that spawned countless others who followed their lead. They have sold over 40,000,000 records. In a testament to their longevity, Quiet Riot's iconic anthem Bang Your Head (Mental Health) is currently featured in contemporary media via a wildly popular Hyundai commercial and their other classics, such as Cum On Feel The Noize and Mama Weer All Crazee Now can be heard everywhere from the Tony Award winning stage show and motion picture, Rock of Ages, to every major sporting event. The Bang Your Head tour brings them back to North American stages to crank out hit after hit for a both the old and new generation of fans!
Hollywood's own Faster Pussycat bring their notorious live show to the tour, and they always go deep into their extensive catalog including chart toppers House Of Pain and Poison Ivy.
Bulletboys took the airwaves by storm with numerous smashes such as Smooth Up In Ya and For The Love Of Money off their platinum selling classic self-titled debut, and the always energetic quartet promises some surprises for this tour!
Acclaimed guitarist Gilby Clarke was a primary member of GUNS N ROSES during the bands biggest era and his success continued in the CBS hit series and subsequent supergroup Rockstar Supernova. Gilby will be performing cuts from all of his well-known projects performing many of the Guns N Roses hits!
Each artist on this bill dominated both MTV and radio airwaves in the 80's, but still remain relevant to this day with heavy rotation on VH1'S Metal Mania and on both satellite and terrestrial rock radio throughout the world.
Dates to be announced soon.