PROJECTED, FEATURING MEMBERS OF SEVENDUST, ALTER BRIDGE AND TREMONTI, RELEASE VIDEO FOR DEBUT SINGLE "RELOAD" FROM THE ALBUM IGNITE MY INSANITY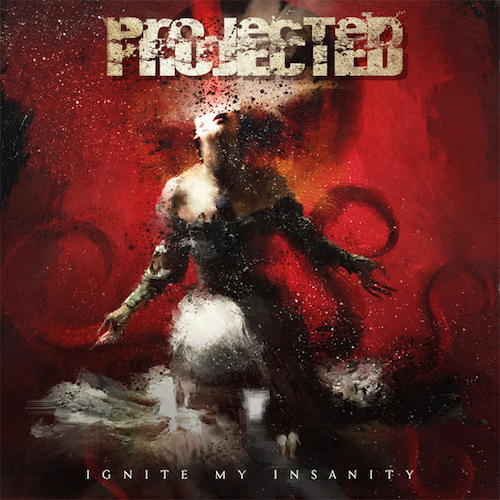 Coming on the heels of the recently released EPK and album announcement, Projected, the band that features Sevendust guitarist John Connolly, Alter Bridge/Creed drummer Scott Phillips, Sevendust bassist Vinnie Hornsby and Tremonti guitarist Eric "E-Rock" Friedman, returns with the video for the debut single Reload. The video can be seen below.
The song comes from the band's sophomore double-length release, Ignite My Insanity, scheduled for release on July 21st via Rat Pak Records. Thetwo-disc collection is now available for pre-order in various configurations at ratpakrecords.com/Projected as well as digitally at iTunes Fans who pre-order the album via iTunes will receive an instant download of Reload with two subsequent downloads scheduled prior to the full-album release.
Ignite My Insanity is the long awaited follow-up to the 2012 self-released debut album, Human.
Ignite My Insanity features 21 all new tracks from Projected and continues to build upon the sound the band established with their debut. It is an album designed to resonate with fans from the member's original projects and guaranteed to garner new fans along the way. From the melodic piano interlude of the opener Strike to the raucous ending of closer Battlestations, the new album takes the listener on a journey inside the minds of the band. Songs like Six Feet Below, Gomorrah, Inhuman and Upside Down are infectious rockers. The first single Reload is a frenetic composition that showcases the musicianship of these accomplished performers. Alter Bridge/Tremonti songwriter Mark Tremonti co-wrote Rectify and Call Me The Devil and Sevendust's Morgan Rose co-wrote Concede with the band.
The track listing for Ignite My Insanity is:
Disc 1:
1. Strike
2. Reload
3. Six Feet Below
4. Vain
5. Rectify
6. Faith
7. Gomorrah
8. Heaven Above
9. 10 Years Gone
10. Only
Disc 2:
1. Fire
2. Ignite
3. Call Me The Devil
4. Concede
5. Inhuman
6. Better
7. Hate You Back
8. Upside Down
9. Seconds
10. Inside The Sun
11. Battlestations
Projected formed in 2012 when longtime friends John Connolly (Sevendust), Vinnie Horsnby (Sevendust), Scott Phillips (Alter Bridge/Creed) and Eric "E-Rock" Friedman (Tremonti) decided to create some music together. While all members are successful in their mainstay bands, Projected afforded the members a chance to explore some different ideas musically. In September 2012, the band self-released their debut album Human and is currently looking for breaks in their respective schedules to bring the music to their fans in a live setting.
Projected online: