OZZY OSBOURNE TO BE HONORED AT 10TH ANNIVERSARY MUSICARES MAP FUND BENEFIT CONCERT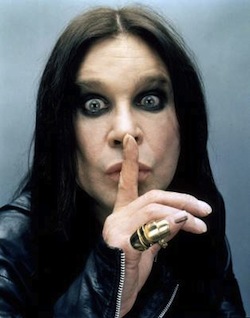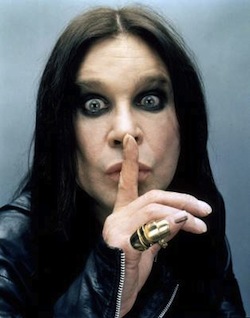 The 10th anniversary MusiCares MAP Fund® benefit concert will honor Black Sabbath's GRAMMY®-winning singer/songwriter Ozzy Osbourne, and owner/CEO of the Village studios Jeff Greenberg. Taking place at Club Nokia in Los Angeles on May 12th, Osbourne will be honored with the Stevie Ray Vaughan Award for his dedication and support of the MusiCares MAP Fund. He is being recognized for his commitment to helping other addicts with the addiction recovery process. Greenberg will be the recipient of MusiCares®' From the Heart Award for his unconditional friendship and dedication to the mission and goals of the organization. All proceeds will benefit the MusiCares MAP Fund, which provides members of the music community access to addiction recovery treatment regardless of their financial situation.
Continuing to celebrate the memory of DJ AM, the evening's DJ will be Mix Master Mike. There will also be a performance by Osbourne and his touring band with special guest Slash on guitar. Additional performers will be announced shortly.
"Ten years ago MusiCares merged with the Musicians' Assistance Program, originally founded by Buddy Arnold, to create the MusiCares MAP Fund," said Neil Portnow, President/CEO of The Recording Academy® and MusiCares. "Since then our addiction recovery resources and programs have grown substantially, and this annual benefit provides a meaningful way to recognize artists and industry professionals who are on the front lines in the battle to fight this crippling disease. It's an honor to celebrate Ozzy and Jeff in our 10th anniversary year, and we know it will be an extraordinary evening filled with heartfelt words and serious rock and roll."
"I know firsthand about the ravages of addiction and I also know that the MusiCares MAP Fund is a vital safety net for people in the music industry who need help with substance abuse," said Osbourne. "This organization literally saves lives."
"I've been lucky to spend my life in the music business doing things that I love," said Greenberg. "But I've also seen the serious and, all too often, fatal effects of addiction in our industry, so that's why I am an ardent supporter of the MusiCares MAP Fund."
This special dinner and concert offers Living Room Sets that seat 10 for $12,500, Individual Floor Seats for $1,250 per person, and VIP Balcony Seats for $100 per person. Contact Wynnie Wynn for ticket information at 310.392.3777 or wynniew@grammy.com. General Admission Balcony Seats for $50 per person are available only through AXS beginning at 10 a.m. PT on March 7 at www.axs.com. Out of respect for the clients the MusiCares MAP Fund serves, the event will be alcohol-free.
Osbourne is a multi-platinum Rock and Roll Hall of Fame inductee and GRAMMY-winning singer/songwriter. His career has spanned more than four decades as both a solo artist and as the lead singer of metal icons Black Sabbath, and his music is as relevant today as ever. Since 2011, Osbourne's focus has been with Black Sabbath. In June 2013 Black Sabbath returned with their critically acclaimed album 13, which debuted at No. 1 in 13 countries. Produced by eight-time GRAMMY-winning producer Rick Rubin, 13 was the first studio album to feature original Black Sabbath members Geezer Butler, Tony Iommi and Osbourne in 35 years. Earlier this year, the group won a GRAMMY Award for Best Metal Performance for the album's lead single "God Is Dead?"
Beyond his music career, Osbourne is a best-selling author (I Am Ozzy, 2010; Trust Me, I'm Dr. Ozzy: Advice From Rock's Ultimate Survivor, 2011), advice columnist (The Sunday Times, The London Times and Rolling Stone) and among the first to have a celebrity reality television program ("The Osbournes," which won a 2002 Primetime Emmy Award for Outstanding Non-Fiction Program (Reality) ). That same year, Osbourne was honored by the Hollywood Walk of Fame with a star on Hollywood Boulevard.
The MusiCares Foundationoffers programs and services to members of the music community including emergency financial assistance for basic living expenses such as rent, utilities and car payments; medical expenses including doctor, dentist and hospital bills; psychotherapy; and treatment for HIV/AIDS, Parkinson's disease, Alzheimer's disease, hepatitis C, and other critical illnesses. MusiCares offers nationwide educational workshops covering a variety of subjects, including financial, legal, medical, and substance abuse issues, and programs in collaboration with healthcare professionals that provide services such as flu shots, hearing tests, and medical/dental screenings. The MusiCares MAP Fund® allows access to addiction recovery treatment and sober living resources for members of the music community. Staffed by qualified chemical dependency and intervention specialists, MusiCares Safe Harbor Rooms, supported by the Bohemian Foundation, offer a support network to those in recovery while they are participating in the production of televised music shows and other major music events.
MusiCares holds weekly addiction support groups for people to discuss how to best cope with the issues surrounding the recovery process. The MusiCares Sober Touring Network is a database of individuals across the United States who can take music people to recovery support meetings while on the road.
Established in 1989 by The Recording Academy, MusiCares provides a safety net of critical assistance for music people in times of need. MusiCares' services and resources cover a wide range of financial, medical and personal emergencies, and each case is treated with integrity and confidentiality. MusiCares also focuses the resources and attention of the music industry on human service issues that directly impact the health and welfare of the music community. For more information, please visit www.musicares.org. For breaking news and exclusive content, please like "MusiCares" on Facebook follow MusiCares on Twitter and on Instagram.