OVERKILL TO BE ENTERING THE STUDIO ON SEPTEMBER 2ND, TOUR DATES ANNOUNCED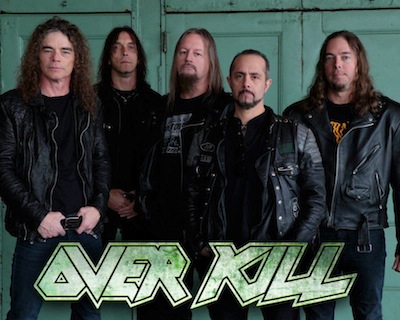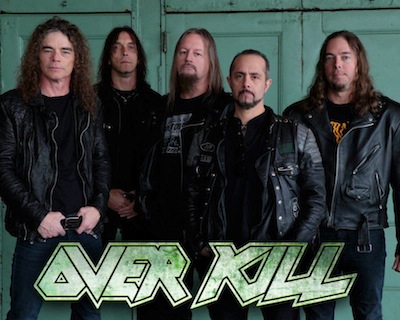 Nersey Metal legends, Overkill are entering the studio on September 2nd to begin tracking their next record due out sometime next year. The new material will be tracked at Gear Recording and mixed by Greg Reely, who also mixed The Electric Age.
Overkill will be appearing on "The Battle Of San Bernardino" on September 13th supporting Iron Maiden, Megadeth, Testament and Anthrax. Tickets are on sale and can be purchased here.
The band will then hit the road harder than ever with Kreator on the Legends Of Thrash 2013 tour stretching coast to coast capped off by two nights in New York city.
Overkill tour dates:
October:
30 Baltimore, MD Soundstage Kreator close
31 Philadelphia, PA Trocadero Overkill close
November:
1 Worcester, MA Palladium Overkill close
2 Montreal, QUE Club Soda Kreator close
3 Toronto, ON Opera House Kreator close
4 Pittsburgh, PA Altar Bar Kreator close
5 Columbus, OH Al Rosa Villa Overkill close
6 Joliet, IL Mojoes Overkill close
7 Lawrence, KS Granada Kreator close
8 Englewood, CO Gothic Theater Kreator close
9 Salt Lake City, UT In the Venue Overkill close
11 Vancouver, BC Rickshaw Thtr Kreator close
12 Seattle, WA El Corazon Overkill close
13 Portland, OR Hawthorne Theatre Kreator close
14 San Fran, CA Filmore Kreator close
15 Anaheim, CA The Grove Kreator close
16 Tempe, AZ Marquee Theatre Kreator close
17 Albuquerque, NM Sunshine Thtr Overkill close
18 Dallas, TX Trees Overkill close
19 San Antonio, TX Backstage Live Kreator close
21 Louisville, KY Diamond Pub Kreator close
22 W. Springfield, VA Empire Overkill close
23 NYC, NY Stage 48 Overkill close
24 NYC, NY Stage 48 Overkill close
For more information, please visit wreckingcrew.com.