ORIGINAL KISS GUITARIST ACE FREHLEY ON THE RRHOF INDUCTION: "YOU CAN'T HAVE [BOTH] ME AND TOMMY [THAYER] IN MAKEUP"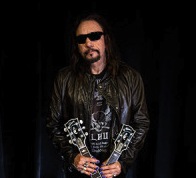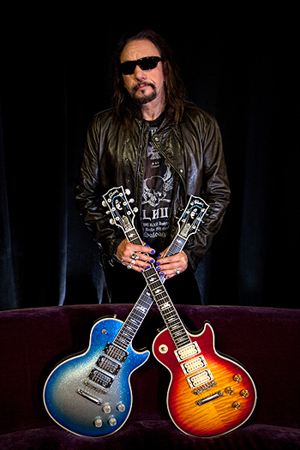 Original KISS guiatrist Ace Frehley was a guest on Eddie's Q104.3's, Eddie Trunk Rocks, radio show on December 20th. Excerpts from the interview appear below courtesy of blabbermouth.net.
Ace discussing performing with his fellow original KISS members when they are inducted into the Rock And Roll Hall Of Fame next April:
"I always try to take the high road and be optimistic and hope that everybody's gonna come to the bargaining table and do the right thing. Sometimes I get the support. But I have a feeling everything's gonna work out. I mean, I spoke with Paul [Stanley, KISS guitarist/vocalist] and Gene [Simmons, KISS bassist/vocalist]. I know they wanna perform with me and Peter [Criss, original KISS drummer]. I'm just not sure how much they want [current KISS members] Tommy [Thayer, guitar] and Eric [Singer, drums] to be involved. But since [Tommy and Eric] not getting inducted, I'm just gonna let that play out with the Hall and management and attorneys and all that stuff. I'm just excited about getting back with them and doing a great three or four songs. And I think it's gonna be great. I'm hoping that everybody's just gonna do the right thing."
"I know for a fact that the Rock And Roll Hall Of Fame wants the four of us to perform in makeup. That's what they want, and we'll see how it plays out. I'm hoping that everybody's just gonna do the right thing and celebrate the four original members who started it all."
On his conversations with Paul and Gene after it was announced that KISS was being inducted into the Rock And Roll Hall Of Fame:
"They actually called me today. We had a very nice conversation. They congratulated me. They actually have been trying to get hold of me since the announcement, but I've been in the studio working on my new record, so I wasn't available. But they tracked me down today through [KISS manager] Doc McGhee's office. And we had a nice conversation; it was very up and very positive."
Speaking about how the current lineup of KISS should be included, if at all, in the Rock And Roll Hall Of Fame ceremony:
"Where KISS is now, that's fine and that's the way it is now, but what we're celebrating is what Paul, Peter, Gene and Ace started back in 1972. '73…
"I don't have a problem with Tommy and Eric being there out of makeup, if I'm in makeup, because they're a big part of KISS today. They had nothing to do with the beginning of KISS or had nothing to do with the designs or the costumes or the makeup, but they're a part of KISS today and it is what it is; I don't control that. But this is about the celebration of KISS and how it all began and started and it should be honoring the four original members.
"If those guys [Tommy and Eric] wanna come up out of makeup and do Rock And Roll All Nite with the whole cast of the show, that would be a great thing. They deserve a little. [But] I can only hope that [Paul and Gene are] gonna do the right thing.
"You can't have me and Tommy both in makeup. You can't have Eric and Peter both in makeup. That's gonna be a farce. So hopefully the Rock And Roll Hall Of Fame will talk some sense into those guys [Paul and Gene] as far as that aspect of the show. Believe it or not, I have faith in those guys."
Talking abouy whether he is open to doing more things with KISS in the future beyond the Rock And Roll Hall Of Fame induction:
"Like I said to Rolling Stone [magazine], never say never. Anything could happen after that night. And I don't wanna speculate at this point, but who knows? We're gonna make rock and roll history one way or the other."
"Look, if something was presented to me in the right way, anything is possible. That's as far as I wanna go on that. I'm working on my new album. It's gonna be released next spring. I've got a single coming out probably right around the time the ceremony is gonna be happening. And [my new record label] eOne is really excited about the new record. So who knows what's gonna happen? But I'm not gonna scrap my record [to reunite with KISS], I can tell you that right now. [laughs]"
source:blabbermouth.net