ORIGINAL BLACK SABBATH DRUMMER BILL WARD REMINISCES ABOUT THEIR "VOL. 4" ALBUM AND SAYS "'SUPERNAUT' WAS ONE OF JOHN BONHAM'S FAVORITE SONGS"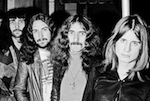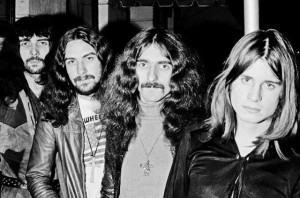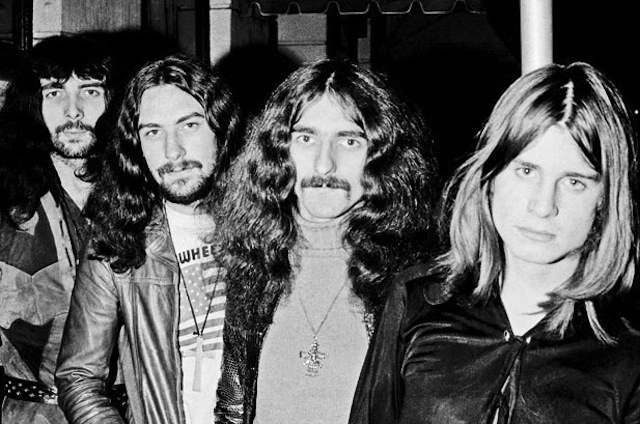 Matt Wake of LA Weekly has written a feature article in which original Black Sabbath drummer, Bill Ward, reflects on the making of their Vol. 4 album. Our very own Eddie Trunk also offers his opinions about that record as well. Portions of the story appear below.
"I think that question might be a little difficult for me because I'm on cans, on headphones, while we're tracking. But I'm sure we played pretty f–king loud," says drummer Bill Ward with a laugh. "I would walk into the studio when Tony was doing his [guitar] overdubs and man, it's just like holy f–king shit, really loud. And that's just doing overdubs. Or Geezer. The [speaker] cabs are flying, man, there's no doubt about it."
After recording their first three brilliant, heavy-metal-pioneering albums in England, in spring 1972 Black Sabbath — Ward, guitarist Tony Iommi, bassist Geezer Butler and singer Ozzy Osbourne — were living in a rented Bel-Air mansion while working on the follow-up to their 1971 disc, Master of Reality.
This was the band's most experimental music yet. The piano balladry of Changes. An orchestra on the haunting coke paean Snowblind. Cuban rhythmic influences on Supernaut, a track with such an infectious, powerful groove it "was one of John Bonham's favorite songs, actually," Ward says. And of course Sabbath's hallmark mix of savage guitars, jazz-gone-wild rhythmic counterpoint and Osbourne's eerie, melodic vocals.
"We had been working literally non-stop," says Ward…At that point we'd been on the road I think for probably about four years and we hadn't stopped. We'd visited L.A. when we played concerts here and all of us liked Los Angeles. We felt it was pretty laid-back here, so we probably were attracted to the fact it was a much slower pace here and we could actually relax."
…"There was one point where Ozzy had spray-painted my private parts," Ward remembers. "And then I read on the spray paint it was poisonous and do not apply to the skin, so in fear of my private parts, I panicked and went kind of crazy." (Osbourne, in his 2010 memoir I Am Ozzy, wrote that it was Iommi who spray-painted Ward's private area.)
"We'd play all kinds of stupid pranks and things like that. That's when the band was great," Ward continues. "I'm not saying the band's not great now, but there was truly a lot of camaraderie and a lot of really, really good stuff at that time period."
The contrast of SUV-squashing riffs and intricate rhythms makes some of Vol. 4's most enduring cuts, like Wheels of Confusion and Tomorrow's Dream, particularly powerful. Ward's groove on Snowblind is strikingly panther-like and patient, particularly on a song about cocaine. For the Vol. 4 sessions, the drummer used a mix-and-match kit made up of specifically selected Slingerland, Ludwig and Hayman drums, including double 26-inch bass drums.
"Tony Iommi once told me that in order to be truly heavy, you also need to lighten it up because when you get heavy again, it makes it all the more impactful," says That Metal Show and Sirius/XM radio host, author and renowned heavy metal expert Eddie Trunk. "I think with Vol. 4 you start to see some signs of the variety and dynamics. No place further than with a song like Changes, which was a tremendous turn for the band and still holds up incredibly well. It's really a dynamic record that shows a lot more was going on with Black Sabbath than just these brutally heavy riffs."
Released in September 1972, Vol. 4 also features one of Sabbath's most iconic album covers: a yellow-monochrome image of Ozzy, wearing one of the fringed shirts he favored for years, his arms extended in a peace sign. Says Trunk, "I got to say, it's always a flag to me when a band that I love more prominently features one member on the cover than anyone else. You're saying to yourself, 'Wow is this just one guy's band?'"
Of course, with Sabbath, that was never the case. "And we've also found out over time that Ozzy, although he's the singer in the band, he was never really a writer in the band," Trunk continues. "And even early on, or later at certain periods, the band was actually fronted by Iommi; I mean Ozzy would be off to the side and Tony would stand front and center and Ozzy would sing over to the side. So just looking back on it, it's just kind of interesting they would make a move like that."
Trunk places Vol. 4 within the top three of the classic lineup Sabbath LPs, up with Sabbath Bloody Sabbath and of course Paranoid. Interestingly, he discovered the band through 1981's Heaven and Hell, the group's first disc with Ronnie James Dio as singer, and eventually worked his way backward into the Ozzy-era catalog, beginning with the compilation We Sold Our Soul For Rock N' Roll.
Calling from his New Jersey home office, Trunk notes that while Vol. 4 contains songs like Supernaut considered classics by connoisseurs, "You don't really have … that across-the-board smash hit. Snowblind may be my favorite track on the record because it's just got that great groove and slams in with that killer riff, and they're singing about something that, at the time, was very near and dear to their heart."
…Black Sabbath originally wanted to title their fourth album Snowblind. But after the band's U.S. label, Warner Bros., balked at naming not just a song but an entire LP after cocaine, Sabbath shifted on a whim to Vol. 4, possibly at the suggestion of road manager Spock Wall.
Black Sabbath's 1970 self-titled debut remains Ward's favorite of the band's LPs. But he listened to spiraling Vol. 4 track Cornucopia less than 24 hours before this interview, and frequently plays the track on his monthly Internet radio show, Rock 50.
Read more at LA Weekly.
source: laweekly.com