ON THE IMPENDING 10TH ANNIVERSARY OF HIS DEATH, EDDIE TRUNK, ROB HALFORD, AND OTHERS, REMEMBER THE ICONIC, RONNIE JAMES DIO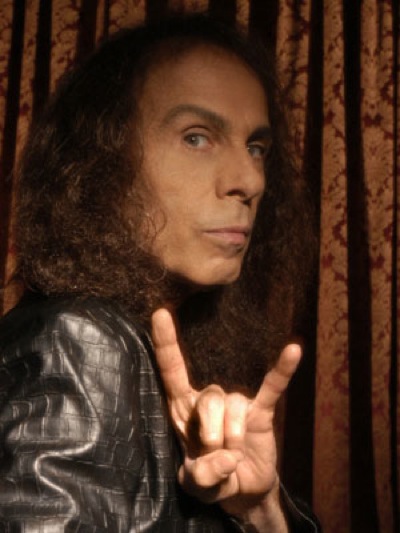 Billboard reports:
May 16th marks the 10-year anniversary of [iconic] former Black Sabbath and Rainbow singer, [Ronnie James Dio's] death from stomach cancer in 2010…
…Never formerly trained as a singer, Dio's vocals were an expansive instrument that towered over his 5'4" stature. He attributed his prowess to breathing exercises from playing the trumpet and bolstered them through baroque and classical techniques that enabled him to rip through other-worldly barriers of sound.
Dio was born Ronald James Padavona on July 10th, 1942, in Cortland, N.Y. He performed in such late-'50s pop groups as Ronnie & The Redcaps and Ronnie Dio & The Prophets before forming Elf in 1967. Following Elf's final studio album, 1975's Trying to Burn the Sun, Dio joined Ritchie Blackmore for Rainbow that year. He then moved on in 1979 for a two-album run with Black Sabbath. Around this time, he also was flashing the "horns" salute that has become synonymous with heavy metal. (He had learned the sign from his Italian grandmother, who used it to ward off the evil eye.)
Billboard shares remembrances from friends, followers and collaborators of the man himself.
Vinny Appice (Black Sabbath, Heaven and Hell, Last in Line): "We left a show one day, got in the limo and were about to drive out of the arena. There was this big chain-link fence that they opened so we can get out, but there were a bunch of kids, maybe 20, outside waiting, and it was really cold. Ronnie said, 'Stop the car.' 'I'm like, 'What?'
He gets out and signs everything and takes pictures. I wasn't that well known then, but I went with him and it made the fans really happy. It was just something that took me aback. Like, 'Wow, this guy's getting out in the cold weather and taking care of his fans. How cool is that?' He loved his fans. And they loved him.
In all the years I played with him … he never warmed up, which is the weirdest thing. He would go right onstage and open up with something like Mob Rules, which is a difficult song to sing. I played with a lot of different singers, and everybody's warming up, screaming, yelling and running. He never did that.
We were like brothers, and we kicked each other's butt onstage. He'd go for notes that were way beyond what the song originally had and just made everybody play even better.
He was such a nice guy. When you met him, he was very cordial, and everything was written from his heart and from his soul. This guy just put it all out there — 110%. Between being such a great human being, to these amazing songs and the way he sang them, people will never forget him."
Scott Ian (Anthrax): "He was the nicest guy ever. From [Donington] on through — not too long before we lost him — Ronnie took Anthrax out on tour so many times. We would bump into each other all the time. I'd go see him, whether it was his band or Heaven & Hell. All those years, from 1987 until 2010, I can't tell you how many times we got to spend time together, and he was always just the best guy ever…He was such a wonderful human being. He defines heavy metal. His voice carried so much weight… I think he's the greatest hard-rock/heavy metal singer of all time. So, that to me is the legacy he leaves, and all the music he leaves."
Jack Black and Kyle Gass (Tenacious D): "We wrote a song for Dio to sing in our movie Tenacious D in the Pick of Destiny. It was called Kickapoo, and Dio's section had kind of a Neon Knights melody. I was nervous he'd be like, 'You guys kind of stole that melody from me,' but he was so cool and rad about the whole thing. No big rock star attitude.
He brought his own microphone to the studio when it came time for him to lay down his vocal track. Our producer, John King, told him it wouldn't be necessary since we had a state-of-the-art mic already set up. He did one take with John King's mic, and Dio basically destroyed it with pure vocal sound, shredded the internal membrane or some s–t. John was like, 'Holy shit, that mic is toasted now.'
Dio said, 'Yeah, that always happens. That's why I always bring my own.' And so we had to set up his industrial-strength mic to record him, and that's the take that was used in the movie."
Eddie Trunk, host, SiriusXM's Trunk Nation: "In 2006, [Dio] had just reunited with Black Sabbath for the third time. He and I were staying in Birmingham [England] at the same hotel, and the next day I would host an hour TV special with the guys about their reunion for VH1 Classic. I was seriously jet-lagged and checking into the hotel early-afternoon U.K. time dying for a nap.
Just as I got my key and headed to my room, I heard a voice call me from behind, 'Where you going, kid?' [He] always called me that. 'You are not going to sleep.' There was Ronnie, also just checking in. He explained to me the worst thing I could do for my body clock to adjust was sleep and that I was to power through and meet him at the bar after dropping my bags. I told him I really needed sleep, and he wasn't taking [no] for an answer. So. I sucked it up and sat with Ronnie at the pub in the hotel, began day drinking, and that carried into dinner and night drinking. It was endless great stories and laughs.
So many great memories … and in the years since we lost him, I often think about how glad I am that I didn't go to sleep that day when I got there."
Klaus Meine (Scorpions): "Many times back in the 1980s, fans would think I was Ronnie while I was walking by in airports: 'Hey, are you …?' And I said with a laugh, 'Yes, I am Ronnie,' before I told them my real name.
Whenever my friend Ronnie and I would meet up, we had a laugh and called ourselves The Everly Brothers of the '80s. He was such a wonderful guy and an amazing singer and performer. There was only one Ronnie James Dio…"
Rob Halford (Judas Priest): "Ronnie was a mentor to me, as far as his solid professionalism musically. He gave 100% onstage, songwriting, producing and recording. I would watch and learn as he would interact with his fans, giving each one time, knowing that those moments live forever for them.
His voice is still with us, as it always will be, and the power and honesty in it will always give me a thrill and a chill. As a fellow singer, his standalone voice means everything, possessing such uniqueness with instant recognition — 10 years or 100 years, it doesn't really matter. Ronnie and all we love about him is eternal."
Read other's tributes at Billboard.