NIGHT RANGER'S KELLY KEAGY TAKES LEAVE OF ABSENCE FOLLOWING SUCCESSFUL HEART PROCEDURE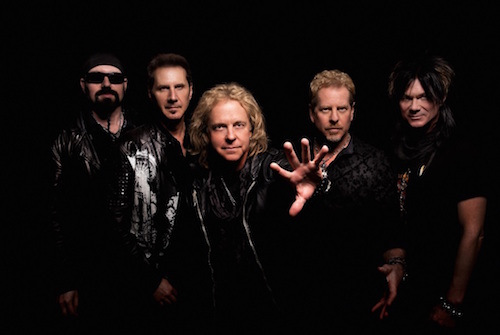 Kelly Keagy, the drummer, co-lead vocalist and co-founder of the acclaimed, multi-platinum and long-running band Night Ranger, is taking a temporary leave of absence from the band during April and May, as he recovers from a successful heart procedure, Night Ranger announced today. Veteran drummers Deen Castronovo (formerly of Journey/Bad English) and Fred Coury (Cinderella) will sit in for Keagy for the next 6 weeks during the "35th Anniversary World Tour", which coincides with the release of the band's 11th studio album, Don't Let Up.
Keagy issued the following statement:
"I've dealt with a heart abnormality my entire life. At the recommendation of my doctors, I decided to undergo a procedure that will allow me to come back even stronger. I've asked the guys in the band to go ahead with the tour, and I'm looking forward to rejoining them on the road as soon as I can. I'm grateful for the support and prayers of my family, my bandmates, and our fans, which have meant everything to me as I've gone through this process."
Keagy is now at home continuing his recovery, which is expected to take six weeks.
Night Ranger's Jack Blades (lead vocals, bass), Brad Gillis (lead & rhythm guitars), Keri Kelli (lead & rhythm guitars), and Eric Levy (keyboards) issued the following statement:
"We support and applaud Kelly's decision to put his health first and undergo this treatment now so he can be back at full strength as quickly as possible. While it will be strange being out on the road without our brother Kelly for the first time in the band's history, we take comfort in knowing it's a temporary situation, and he'll be back soon even stronger to continue the 35th Anniversary World Tour."
We're grateful to our buddies Deen and Fred, for agreeing to step in as guest drummers for Night Ranger during Kelly's short hiatus (Deen will perform at the May shows and Fred will perform at the April shows). They've both been good friends of the band for years, and it'll be great to be rockin' America with them while Kelly recuperates."
We know our fans join us in sending their thoughts and prayers to Kelly and his family as he recovers from his procedure, and we look forward to reuniting with him on the road very soon as we celebrate the release of Don't Let Up and the 35th Anniversary World Tour rolls on."
For more information, visit a href="https://nightranger.com/#/" target="_blank">NightRanger.com.