MARK WEISS/DAVID BANEGAS-TWO MEDIUMS/ONE VISION APRIL 24TH AT THE ROCK & BREWS ORLANDO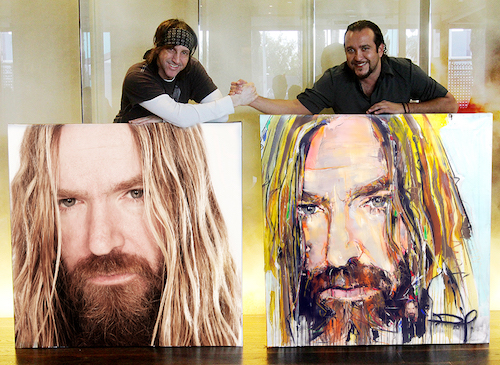 What happens when you have two visionary modern artistes merging their talents? Well, when you are talking about rock photographer Mark Weiss and painter/artiste David Banegas, you wind up with a breath-taking, larger-than-life image of Mark's images morphing into David's art. Four portrait paintings will be featured at a new music-themed Orlando restaurant, Rock & Brews – located at 6897 South Semoran Blvd., by the Orlando airport.
One of the paintings is based on an image Weiss photographed of Axl Rose during the historic Guns N' Roses concert in 1987 at The Ritz in New York City. Add to the 10' x 30' mural, three more textured and stylized mirror image paintings from Weiss' archives and you begin to envision the mural's impact. The "wall of art" was commissioned by entrepreneur Scott Paul for the Rock & Brews in Orlando. The restaurant needed to artistically exemplify its "rock roots" and it had to be contemporary. The merged artwork of Mark Weiss and David Banegas was the answer.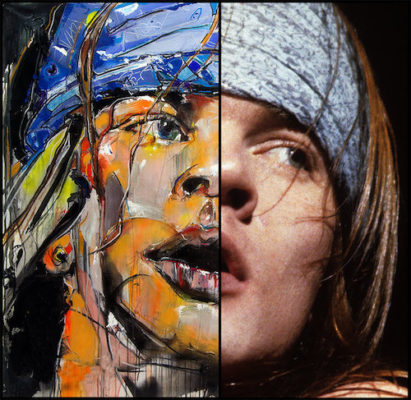 The Rock & Brews Orlando grand opening is open to the public on Monday, April 24th, the above-mentioned rock icon paintings are displayed on the Rock & Brew's wall of distinction. There will be a silent auction where the proceeds will go to the Orange County Animal Services of Mark's iconic classic rock photos as well as David's embellished half/half giclee of Axl Rose, at a special community night celebration on April 22nd.
Picasso once said, "(a painter) paints not what he sees, but what he feels". Seeing the combined effort of two artistes such as Mark Weiss and David Banegas, equals one new focused vision – one feeling – locking in a moment in time, image and feel.
Their first collaboration began in 2012 at Guitar World's first Rock & Roll Roast to benefit MusiCares which featured guitarist Zakk Wylde.
Photographer Mark Weiss and artist David Banegas met at the Lunch Break 2011 Gala in Red Bank, NJ. Both contributed their art to raise money at the charitable event. Mark was auctioning off his classic rock photographs; while David was painting live – a portrait of Elvis Presley that was raffled off at the event. David's unique execution of painting caught Mark's eye; inspiring him to approach David with the idea to have him paint a mirror image of his most iconic Rock & Roll images. The partnership was formed! Both artists continue to donate their work to help bring focus and funds to charitable causes.