NEW ENGLAND REUNITE TO PERFORM IN MASSACHUSETTS IN AUGUST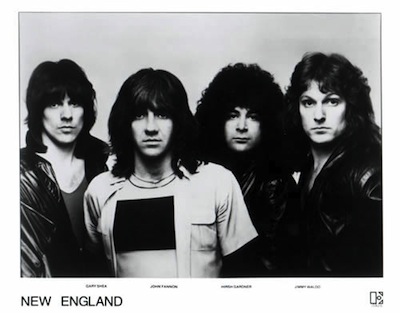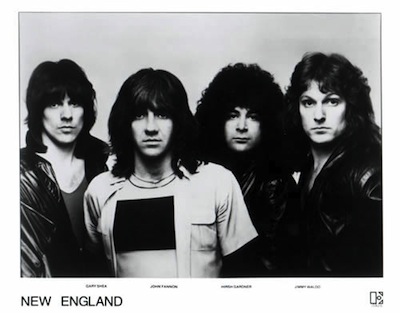 New England will be performing a reunion concert the Regent Theatre in Arlington, MA on August 15th. This is the first time all four original members have performed together since 1983. Tickets for this event can be purchased here.
New England is a four-piece rock and roll band hailing from Boston, MA. John Fannon (guitar & vocals), Hirsh Gardner (drums and vocals), Jimmy Waldo (keyboards and vocals) and Gary Shea (bass) broke out of the local scene with the release of their self-titled album on Infinity/MCA in 1979. The first single, Don't Ever Wanna Lose Ya (see video below), became an AOR smash and even cracked the Top 40. The album was produced by Mike Stone and Paul Stanley of Kiss, with whom New England toured for much of 1979 and 1980.
For their sophomore effort, entitled Explorer Suite, the foursome once again called upon veteran knob-twirler Mike Stone. Highlights from this album are the orchestral title track, It's Never Too Late, and Conversation, which features New England's trademark lush background vocals. The touring never let up for the boys from Boston as they split their time on the Explorer Suite tour between headlining large clubs and sharing arena billing with Journey, AC/DC, Cheap Trick, and Kiss among others.
For the third album, Walking Wild, the legendary Todd Rundgren was at the helm. The results of these sessions were hard-driving anthemic tunes such as Don't Ever Let Me Go, L-5 (co-written by Fannon, Waldo & Rundgren) and the kick-ass rocker Holdin' Out On Me, which features Hirsh Gardner on lead vocals. The frustration over the lack of label support grew and the band parted ways. While Fannon & Gardner went on to successful careers as producers and Shea & Waldo formed Alcatrazz with Graham Bonnet
& Yngwie Malmsteen, nothing seemed to match the excitement of New England. The real strength of New England was the combination of four strong & diverse individuals: Fannon's lead vocals & songwriting, Waldo's whirling keyboards, Gardner's driving skin-pounding and high-pitched vocals and Shea's thunderous bass lines.
While the records speak for themselves, the fans are the reason New England lives: Waldo explains,"I would tour all over the world with Alcatrazz and every country we'd go to people would have New England albums for me to sign. It really shows you the power of music. We have fans all over Europe & Japan, places we never even toured. It's amazing."
Watch the video for Don't Ever Wanna Lose Ya below.
Listen to their self titled debut album below.