MY REALLY SHORT REVIEW OF AIRBOURNE'S "BLACK DOG BARKING"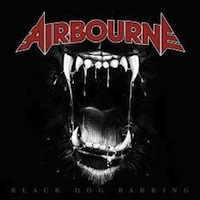 Airbourne is not trying to re-invent the wheel and why should they when that wheel is made of great hard rock? Just like all of Airbourne's previous CD's, Black Dog Barking has a mean bite.
Black Dog Barking is available is now on Roadrunner Records.
Watch Airbourne's video for Live It Up below.
Inspired by the likes of Judas Priest, Thin Lizzy, AC/DC and Motorhead, Airbourne has been winning fans since 2003 with their high-energy, whiplash-inducing, workingman's rock 'n' roll. Their first album Runnin' Wild was named 2007′s 'Album of the Year' by SleazeRoxx.com, Best Debut Album at the 2008 Metal Hammer Golden Gods awards, and Spin said Runnin' Wild, Airbourne's debut, is a smorgasbord of sledgehammer riffs, crass sex puns, and boozy sing-alongs."
Hailing from Warrnambool, a small drinking town on the southwestern coast of Victoria, Australia, Airbourne — vocalist/lead guitarist Joel O'Keeffe, drummer Ryan O'Keeffe, guitarist David Roads, and bassist Justin Street — has gained an immense following with their explosive live shows and main stage festival appearances including a headliner spot at Wacken 2011, Rock Am Ring/Park (Germany) and Download (UK).