MUSICIANS POST THEIR TRIBUTES TO EDDIE VAN HALEN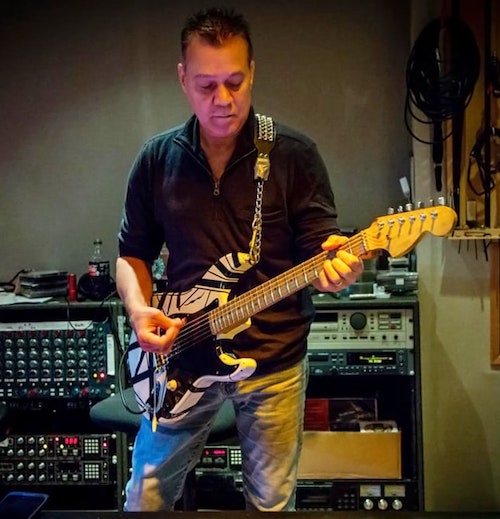 As previously reported, guitar legend Eddie Van Halen has passed away today at age 65.
According to TMZ,  Van Halen died at St. John's Hospital in Santa Monica, California. His wife, Janie, was by his side, along with son Wolfgang, and his brother, and bandmate Alex Van Halen.
According to the site, Eddie's ongoing health battle went massively downhill in the last 72 hours, with doctors discovering his cancer had moved to his brain as well as other organs.
There have been a lot of rumors regarding the guitarist's supposedly worsening health, with TMZ reporting recently that Van Halen has been traveling between the U.S. and Germany for cancer treatment going on several years now.
In light of his passing, many musicians have tweeted their condolences, here are just a few tributes to the guitar legend.
Original Van Halen frontman David Lee Roth retweeted a picture from Museum Pictures of he, and Eddie, outside McDonalds in 1978.
Former frontman, Sammy Hagar, also tweeted a picture of he and Eddie, writing, "Heartbroken and speechless. My love to the family.."
KISS bassist Gene Simmons wrote, "My heart is broken. Eddie was not only a Guitar God, but a genuinely beautiful soul. Rest in peace, Eddie!"
Black Sabbath guitarist Tony Iommi tweeted, "I'm just devastated to hear the news of the passing of my dear friend Eddie Van Halen. He fought a long and hard battle with his cancer right to the very end. Eddie was one of a very special kind of person, a really great friend. Rest In Peace my dear friend till we meet again."
KISS frontman Paul Stanley stated, "Oh NO! Speechless. A trailblazer and someone who always gave everything to his music. A good soul. I remember first seeing him playing at the Starwood in 1976 and he WAS Eddie Van Halen. So shocked and sad. My condolences to Wolfie and the family."
Black Sabbath bassist Geezer Butler writes, "Just when I thought 2020 couldn't get any worse, I hear Eddie Van Halen has passed. So shocking- One of the nicest, down to Earth men I have ever met and toured with. A true gent and true genius. RIP. So sad. Thoughts go out to his brother Alex, and his family."
Singer John Corabi tweets, "This one sucks big time!!!!! R.I.P. Eddie Van Halen!!!! You took what Hendrix gave us, and created an even bigger legacy!!!! You will be sorely missed, and I'm glad to have met you and hung out together!!!!! Can 2020 just go the f–k away!!!!"
Guitarist Steve Vai states, "Feeling deep sadness and overwhelming appreciation. The appreciation and love for him is bigger though. Let's take a minute and try to imagine our world if he never showed up. It's unthinkable. Thank you King Edward. You are deeply loved and will be missed."
Steve Gorman writes, "There will be many words written and spoken about Eddie Van Halen over the next few days, months, and years. Those words will never come close to expressing what he meant to rock music, what he meant to guitarists, and what he meant to the guitar itself. Rest easy sir,"
Whitesnake frontman David Coverdale, "Omg…RIP, Edward…Our Thoughts Are Prayers Are With Your Family, Friends & Fans…What An Incredible Loss…Truly An Astonishing Musician…"
Yngwie Malsteen, "Just heard the devastating news… One of the absolute giants is gone. He influenced and inspired an entire generation, including myself. His legacy will always remain. RIP Edward."
Def Leppard frontman Joe Elliott said in a statement, "I saw Van Halen destroy [Black] Sabbath at the Sheffield City Hall in 1977… Eddie was a big part of that, having essentially reinvented guitar playing just like Jimi Hendrix had done a generation earlier….l had the pleasure of being on the same bill as Van Halen 7 years ago when Kings Of Chaos were on the same bill at the Stone Music Festival in Australia. I'm happy to say that his playing that night was as good as it's ever been, he certainly shook things up when he came on the scene…. Rest In Peace Eddie.."
Guitarist Vivian Campbell added, "I distinctly remember the first moment I heard Eddie play. A good friend, also a guitarist, had just bought the first Van Halen album and came by my house and told me that I urgently needed to hear this. He wasn't wrong; it was a moment that redefined everything that I thought was possible about playing the guitar. The goalposts had just been moved. I stayed up all that night trying to learn from Eddie. Many, many decades later, and I'm still learning from Eddie."