MOTLEY CRUE FRONTMAN VINCE NEIL ON THE BAND'S FAREWELL: "IT'S NOT GONNA BE LIKE A KISS FAREWELL"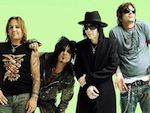 Gary Graff of Billboard reports:
Motley Crue frontman Vince Neil says that all the farewell talk surrounding Motley Crue these days "is definitely for real" — and the group even has its exit strategy (i.e. a farewell tour) in place.
I think we'll start the tour around May — I'm just kind of guessing on that, but in the spring of '14, and we'll do one more time around the world and kinda call it quits," the Crue frontman tells Billboard. "It's just that time. We're going out on top. We don't want to be some band that people are like, 'Oh, they're playing a club now,' that kind of band. We still sell out arenas, have stadium stuff and things like that, so let's go out when it's a big deal."
Neil adds that guitarist Mick Mars' continuing health issues — he suffers from ankylosing spondylitis, a form of arthritis, and has also had hip replacement surgery — are also a factor. "Touring is tough on him, so this'll give him some time to relax."
Neil doesn't think it will be the last we see of the Crue, though.
"I'm sure in five, 10 years from now we'll probably do something again together, if other people's careers don't get in the way," he says. "But it's not gonna be like a KISS farewell to the farewell to the farewell to the farewell tour. It won't be like that. We're not going to say farewell and then try to get people to come back again in a little while."
Neil expects there will be some new Motley Crue music in the future, too — most likely to accompany the film adaptation of the group's autobiography The Dirt, which is still in development.
"It's going to come out at some point before our tour starts," Neil reports. "We're hoping an early spring kind of thing."
Neil is currently touring with his solo band, while the Crue is gearing up for September shows in Oklahoma and Miami before starting a 12-date return to The Joint at the Hard Rock Hotel/Casino in Las Vegas. Neil promises the shows will be "over the top, even by Motley standards" and even bigger than the group's first run in Sin City last year.
"The thing about playing in Vegas is you can do so much more because you don't have to tear it down and build it back up the next day. You can do effects that stay there. So we're really looking forward to it. You can call it our most dangerous show ever — not danger for us but danger for the crowd. I thought the last residency was cool, but we learned we could do way more than we actually did, so this will be really, really over the top."
Or, he adds, deeper into the bottom. "Just think of hell, what would happen in hell," Neil teases.
source: billboard.com