MÖTLEY CRÜE ENTER THE RECORDING STUDIO WITH PRODUCER BOB ROCK AND GUITARIST JOHN 5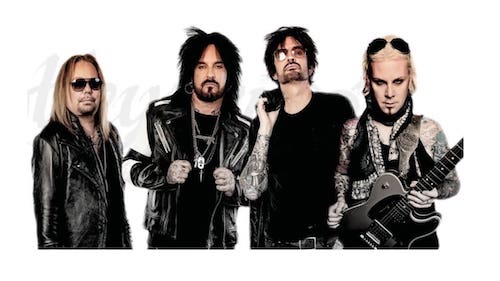 According to the band member's social media accounts, Mötley Crüe have entered the studio with longtime producer Bob Rock to record some brand new music.
On April 17th , guitarist John 5 shared a photo of him laying down tracks in a recording studio. He also posted a picture of Rock in front of a mixing board. The accompanying caption read, "Let's do this @motleycrue #bobrock".
Drummer Tommy Lee shared the same photos on his Instagram page, along with one showing Lee, John 5 and bassist Nikki Sixx in the "big studio." He captioned the images: "Hit that mother f–king record button Mr. Rock!!! Go!"
On April 13th, Sixx reportedly confirmed that the band was writing new music. Less than two weeks after tweeting that he and John 5 had spent some time "writing random riffs," the bassist returned to the social media platform to share an image of him, Lee and John 5 playing and recording in a studio, along with the caption, "Another killer songwriting day with Tommy Lee and John 5." He offered more information in a follow-up tweet, writing, "We are writing. The creative process of songwriting has always been the heartbeat of our band. We're gonna go in the big studio next week and record a few off the floor and see where it goes. We don't have a definitive plan at this point. Just letting the songs guide us."
John 5 co-wrote three songs for the band's Netflix movie, The Dirt. Also, In 2021, Sixx and John 5 launched the L.A. Rats, a supergroup in which they were joined by Rob Zombie and drummer Tommy Clufetos.
A year ago, John 5, said that he was "so proud" of his involvement with The Dirt soundtrack.
John 5 joined the band as the replacement for founding guitarist Mick Mars, who announced last October he would no longer tour with the legendary rock act because of his long struggles with degenerative disease ankylosing spondylitis.
Mars is currently suing his former bandmates, claiming he is being cheated out of money. Additionally, both sides, have been disclosing details about the strife, in the press.
Related stories:
MÖTLEY CRÜE'S ATTORNEY PROVIDES SEVEN CREW COMPLAINTS AGAINST GUITARIST MICK MARS, MARS RESPONDS STATING "THOSE GUYS HAVE BEEN HAMMERING ON ME SINCE '87, TRYING TO REPLACE ME"
MÖTLEY CRÜE'S MANAGER SLAMS MICK MARS' "SMEAR CAMPAIGN" AND "FALSE ACCUSATIONS"