MIKE TRAMP ANNOUNCES 2020 NORTH AMERICAN TOUR CELEBRATING MUSIC OF WHITE LION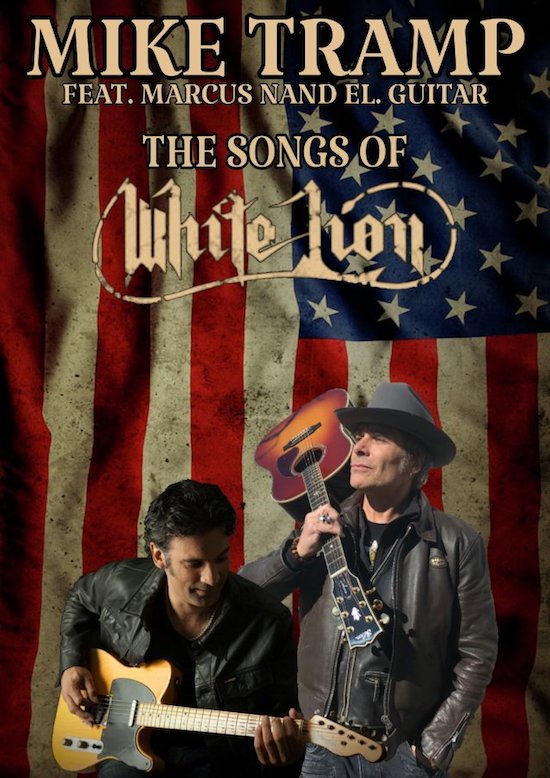 Former White Lion frontman Mike Tramp will embark on an extensive North American tour this spring. The trek, which is set launch on April 15th at the Whisky A Go Go in West Hollywood, California, will see Tramp performing all the White Lion hits, including When The Children Cry, Little Fighter, Wait, Lady Of The Valley, Radar Love and many others. Joining Tramp for the two-man acoustic show will be lead guitarist Marcus Nand.
"The ultimate reward in being a songwriter and performer is being on stage in front of an audience," says Tramp. "This is my sixth tour over the past eight years and never before I have looked so much forward to giving back to the fans who have been there every time I hit the stage. This will be great."
Initial dates are as follows:

Apr. 15 – Whisky A Go-Go – Hollywood, CA 
Apr. 16 – Count's Vamped – Las Vegas, NV 
Apr. 30 – M3 Festival Kick Off Party – Union Jacks – Columbia, MD 

May 1 – M3 Festival – Merriweather Pavilion – Columbia, MD 
May 2 – Debonair Music Hall – Teaneck, NJ 
May 3 – Mixx 360 – Malden, MA 
May 5 – Three Flags Ballroom – Warren, PA 
May 9 – The Stage – Williamsville, NY 
May 10 – Sharkey's Bar – Liverpool, NY 
May 15 – Potawatomi Hotel And Casino – Milwaukee, WI 
May 20 – The Paramount – Salina, KS 
May 22 – The Venue – Denver, CO 

Jun. 7 – Sidetracks Music Hall – Huntsville, AL 
Jun. 12 – Warehouse Live – Houston, TX
Mainly active in the 1980s and early 1990s, White Lion released its debut album, Fight To Survive, in 1985. The band had its breakthrough with the double-platinum-selling Pride album, which produced two Top 10 hits: Wait and When The Children Cry. The band continued its success with the third album, Big Game, which achieved gold status.
By the time White Lion released its final album, 1991's Mane Attraction, alternative rock was in the ascendancy, leading to a swift decline of the so-called "hair metal" scene in terms of sales, popularity, radio play, and most importantly, relevance.