MIKE PORTNOY AND DAVE ELLEFSON DISCUSS METAL ALLEGIANCE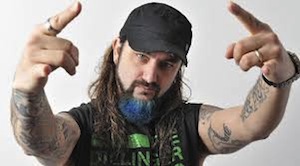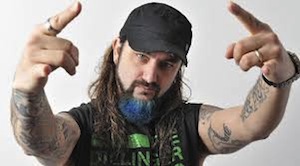 Greg Prato of Bravewords reports:
Want to see Anthrax' Charlie Benante, Scott Ian and Frank Bello, Megadeth's David Ellefson, Testament's Chuck Billy and Alex Skolnick, Sepultura's Andreas Kisser, Death Angel's Mark Osegueda, Mike Portnoy, Chris Broderick, Troy Sanders, and John Tempesta all jam on the same stage? If you live in the Anaheim, California area, you're in luck. It has been announced that all the aforementioned metal musicians will be gathering together on the evening of January 21st at the House of Blues in Anaheim, under the name of Metal Allegiance, which will feature an evening of various classics being performed by different line-up configurations. Also of note is the cost of the tickets are being kept quite affordable, and can be purchased at Ticketmaster or at the House Of Blues Anaheim box office. Two Metal Allegiance participants, Megadeth bassist David Ellefson and ex-Dream Theater drummer Mike Portnoy, chatted with BraveWords correspondent Greg Prato about how this union happened, and what fans can expect.
BraveWords: How did the idea come about to do Metal Allegiance, and how did you all get involved in the project?
David Ellefson: "This whole thing started back with the Big 4, when we did those shows. And it developed out of the bass clinics me and Frank (Bello) were doing, which were really unprecedented in metal music. I think for a period, we were seen as competitors, and what the Big 4 and Clash of the Titans did was it broke down the competition and brought us all together as comrades. And Metal Allegiance was born out of that. It started with me and Frank, Mike Portnoy, and Charlie Benante, and then we just started calling all the guys in the neighborhood – Scott Ian, Kerry King, Phil Anselmo, etc., and it spread. The real launch of Metal Allegiance as an entity started on Motörhead's Motörboat back in September. Then Megadeth had to step aside because there was a health issue there. And all of a sudden, it was, 'Well, we're all going to be on the boat. Let's make this happen.' And that's when it started. And it's really blown up beyond anything we've probably imagined it would – just because it's so much fun. And the fans love seeing all these guys on stage at the same time, jamming with each other. Different combinations playing a whole bunch of different songs that we were just kind of winging on the fly. It was just such a great spirit about it. And I think when fans were like, 'Metal Allegiance was one of my favorite things on Motörboat,' that's what they're talking about – this impromptu, very unscripted moment that happened. I've talked to a lot of fans, and they're like, 'We couldn't believe you guys came out (and played)' – more and more people kept coming out. It was kind of like the Grammys of heavy metal."
BraveWords: So both of you have played previously with Metal Allegiance, right?
Mike Portnoy: "Well, Metal Allegiance – as it's now called – has only done the Motörboat shows, but David and I, and Frank Bello and Charlie Benante and Kerry King and Phil Anselmo, we've done this under a different name in the past. We've done five shows through the years as a thing called 'Metal Masters.' But this is basically taking that same idea and moving it forward, and it's going to evolve and develop into all different places in the years ahead."
BraveWords: How different is it playing as part of an all-star band compared to a full-time band? Is it a lot looser?
Mike Portnoy: "It's totally looser. This is all about camaraderie. In all of our other bands and our normal 'day jobs,' those are our careers, and you have to make career moves and career decisions. This is just for the fun of it. There's nothing at jeopardy, there's no career decisions that need to be made – financially or creatively. It's a bunch of guys that are metalheads and metal fans, and we're all friends with each other, and we do it just because we love this music and we have a good time with each other. That's it. That's where it began and that's what is all about. I said this on stage at the last one, but it's the truth – all of us on stage and behind the stage are having as much fun as the people in the audience. We look out into the audience and we see a sea of metal fans. And all of us on the stage and backstage are the same. We're hanging out backstage, watching everybody else jam, having a good time, getting psyched to see the different configurations of players going on at any given time. We're hearing these cool songs being pulled out of the setlist. It's basically we're just metalheads and metal fans doing it for the fun of it."
BraveWords: Do you find you still pick up new things by playing with other musicians?
Mike Portnoy: "Of course. I mean my God…not to go there, but that was the entire reason why I left Dream Theater. I spent 25 years playing with the same guys, playing the same style of music. And I needed to branch out and do different styles with different people. So to me, to answer your question, you have to play with other people to grow. Change and getting that different inspiration and different personalities is what you absolutely need in order to develop and grow. And that's been my mission statement for the past four years, with everything I've been doing."
BraveWords: Who are you looking forward to playing with most at this upcoming show?
David Ellefson: "There's the winter NAMM show coming up, and there's a whole cast of characters that are going to be there. Because winter NAMM is an international event – artists from all over the world are going to be there. And we've already got a beat on a couple and reached out to a few of them. It's going to be a really, really cool show. And metal week is kind of this interesting crossroads, because we have two versions of it we can do – we can do this big 'celebration,' where everybody in the house is there. Like at NAMM and ShipRocked. We're getting asked now to do some other territories outside of the United States. Those open up other opportunities to different people to participate, and that's the whole part of the Metal Allegiance – what you hear is metal and pledge allegiance and be a part of it! It's something that's open to the entire neighborhood, y'know? It's not some exclusive little club. What's fun about it is you realize pretty quickly that people who are inclined to participate in something like this, in the past when we've done certain jam sessions with guys like Kerry King showing up – and I've played with Kerry over the years and we've all been friends with him – I would never think he would be a part of something like that. But certain people are like, 'I'd love to be a part of that.' I think that the personalities and just the general feel-good nature of it is that keeps a pretty wide door open for everybody to come in and hang out with us."
Mike Portnoy: "And you never know who is going to jump up, too. You have the guys who are part of the Metal Allegiance – there's the core group and the guys that play all the shows, but then in the past, Geezer Butler came up and played with us, Steve Vai came up and played with us. You never know what special guests can pop up and end up jamming at any given moment."
BraveWords: I was impressed by the low cost of the tickets, compared to how expensive tickets are nowadays to most rock shows.
David Ellefson: "Yeah, for sure. It's funny – Megadeth in the past, we've been the kings of the 'low dough shows.' In fact, at times over the years, I remember promoters saying that, 'Let's do a low dough ticket,' and the next thing you know, 5,000-10,000 people show up, because they're metalheads, man. Metalheads…granted, a lot of them are grown up and live in the suburbs, and some of our bands have been around a while, at its core, it's a lot of young people. And young people are in school and it's the middle of the school year, and people don't have jobs and stuff. We want to make it something that's fun for everybody to come out. You hate to make money the reason that people have to say 'No.' So we tried to take the money part out of it."
BraveWords: More shows after this one at the House of Blues?
David Ellefson: "Yeah, we're going to be doing ShipRocked – about a week later, actually. The first week of February. And then there's also quite a few other cool little things that look like they're developing in 2015, as well."
source: bravewords.com