MICHAEL SCHENKER SAYS "BANDS LIKE UFO AND THE SCORPIONS ARE TRYING TO FOOL THE AUDIENCE"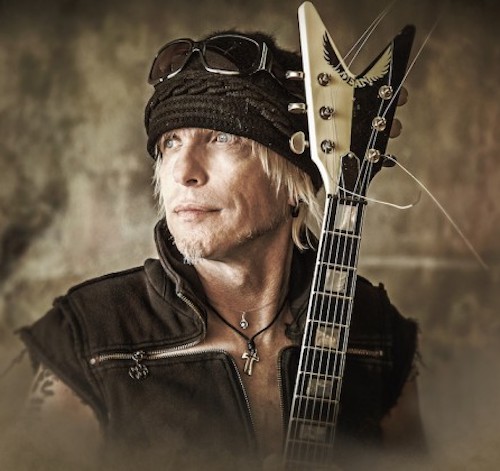 Scott Munro of Classic Rock reports:
Michael Schenker has ruled out any possibility of playing with UFO on their farewell tour.
Frontman Phil Mogg – the band's only ever-present member – announced his decision to retire from UFO earlier this year and will bow out following a 50th anniversary tour in 2019.
Many fans would like to see former members make guest appearances during the dates in the UK and Ireland, but the guitarist won't be one of them and he's explained exactly why he won't take part – not even at the all-star jam on the final night of the tour at London's O2 Shepherd's Bush Empire on April 4th.
He tells Classic Rock, "Bands like UFO and the Scorpions are trying to fool the audience, and I'm not a part of that world. It's becoming a trend to make a big deal about playing last shows, and those bands do it because they can't get anywhere in a normal way.
I returned the UFO name to Phil Mogg in 2003 – it was a precious gift that I gave him for free and he didn't even thank me. Why should I show up with UFO again?
For me, UFO only exists with the original five members, plus producer Ron Nevison. Phil calls his current band UFO, but it isn't UFO. If he shows me no respect or appreciation, why would I do that for him?"
Schenker and Mogg both live in Sussex, England, with the guitarist saying that they see each other often – but haven't spoken recently.
Schenker says, "When I use a zebra crossing, Phil's there walking his dog. Or I see him in Morrison's queuing up to buy a Lotto ticket. Or he's going up the hill on his racing bike. It's like a comedy. But we haven't actually spoken for quite a while."
The full interview with Schenker will feature in an upcoming issue of Classic Rock magazine.
UFO's Last Orders – 50th anniversary tour will begin at The Queen's Hall, Edinburgh, on March 29yj and conclude with a set at London's O2 Shepherd's Bush Empire on April 4th.
source: Classic Rock via loudersound.com