METALLICA INTRODUCE "BLACKENED AMERICAN WHISKEY"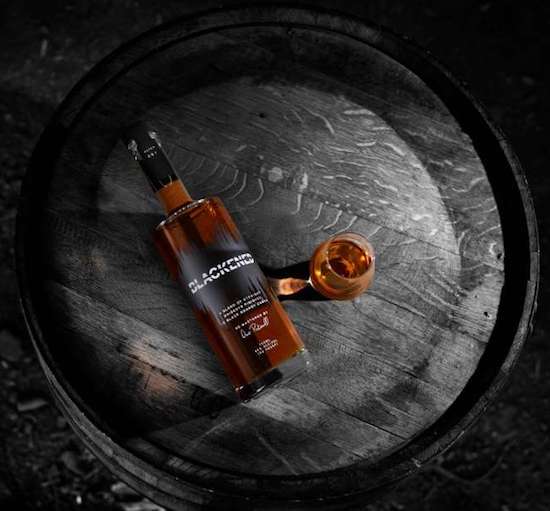 Metallica have announced via their website:
"It's not often that we announce a brand new, never-been-done-before Metallica endeavor, so we're incredibly excited and super proud to introduce Blackened American Whiskey. Those of you who are whiskey connoisseurs may have heard some rumblings earlier this summer as we're honored to partner with Master Distiller extraordinaire, Dave Pickerell, to create a unique blend of straight American whiskey available in select U.S. cities later this week and online at thinkliquor.com or spiritedgifts.com.
This collaboration is the perfect match. Legendary in the spirits community, Dave is a chemical engineer who has revolutionized the distilling processes with techniques like solera aging and triple-finishing. He experienced the power of soundwaves during his time as a student and then a Professor of Chemistry at West Point, home to the world's largest church organ. When the lowest note would reverberate through the halls, "the whole building would tremble, it would really shake your guts," Dave says. With that in mind, Blackened isn't just the name of a song on …And Justice For All and now on the bottle; it literally helps to shape the flavor. That's right, the blend of bourbons, ryes, and whiskeys from all across North America, carefully selected by Dave himself, is housed in black brandy barrels and inundated with low hertz sound waves so intense that it actually enhances the molecular interaction and ultimately the finish of the whiskey.
We are fortunate to have a long-time collaboration with Meyer Sound, who have engineered a proprietary subwoofer that amplifies the low frequency sound waves and all the planets aligned. It just so happens that the low-frequency range needed for Dave's vision was the range you hear in our music and the process of sonic-enhancement we call "Black Noise" was born. A patent-pending process, the playlists that we create helps to shape the flavor of the whiskey.
And you guessed it, the soundwave that fronts the bottle comes from Blackened and we're pretty sure you know why the inaugural batch is labeled 081. Each batch of 5,000 bottles of Blackened American Whiskey will come with an accompanying playlist at blackenedwhiskey.com and on Spotify and Apple Music.
Blackened will be available in stores, restaurants, and bars surrounding a handful of U.S. tour dates this fall including our first stop in Madison on September 2nd. If you're in the area before the show on August 30th, stop by the locations below, meet Dave and pick up a bottle and swing by our pre-show party at Wando's on Sunday. Keep an eye on blackenedwhiskey.com for more events in the near future and use the locator to see where you can either sip or carry out Blackened American Whiskey for yourself….The ultimate goal with Metallica is to connect with our fans through recordings, through concerts, and increasingly through any other way that further creates a bond. We want to show the world, and in this case especially the whiskey connoisseurs, how seriously we take this endeavor. We are obviously not just slapping a Metallica label on a pre-existing mediocre whiskey, but have been working on this for the last several years and overseeing every detail from the first idea to your first taste with careful precision. The ultimate goal is to make a whiskey that fits into the Metallica experience and sets itself apart from all the others. We can't wait for you to taste it."
BLACKENED AMERICAN WHISKEY EVENTS:
THURSDAY 8/30
Bottle Signing and Tasting with Dave Pickerell
Steve's Liquor
122 Junction Road
Madison, WI 53717
12-2 PM
Bottle Signing and Tasting with Dave Pickerell
Woodman's Liquor Sun Prairie
1099 S. Grand Ave.
Sun Prairie, WI 53590
3-5 PM
SUNDAY 9/2
Wando's Pre-show
602 University Ave.
Madison, WI 53715
Featured drinks
5-8 PM