METAL GODS JUDAS PRIEST ANNOUNCE NEW STUDIO ALBUM "INVINCIBLE SHIELD" OUT MARCH 8TH, NEW SINGLE "PANIC ATTACK" TO BE RELEASED ON OCTOBER 13TH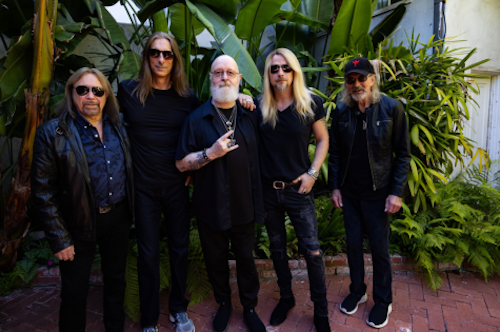 Following a storming headline show at Power Trip Festival in California last night, metal icons Judas Priest announced on stage the arrival of a brand-new studio album entitled Invincible Shield, set for release on March 8th, via Epic Records. Panic Attack, the first single from the album, will be released this October 13th.  The album is now available to pre-order here. 
Power Trip festival took place at the weekend and saw the biggest names in metal gather for this sold-out event, where everyone from Metallica to Iron Maiden and AC/DC performed alongside the mighty Priest. Their surprise on-stage announcement was made to 200,000 fans at the festival and sent a shockwave of excitement amongst their loyal followers across the globe. Watch the album trailer below.
The undisputed hardest working band in metal will also be embarking on a world tour in 2024, the with the UK leg kicking off in Glasgow on March 11th and includes a show at London's OVO Wembley Arena on March 21st.
Over the past 50 years Judas Priest have sold over 50 million albums worldwide and headlined the world's biggest stadiums.  With their evolving music and live performances also came a powerful unique identity, a look which has both defined the group and influenced future generations of metal bands the world over.  With each year the Judas Priest legend continues to grow; 2022 saw them inducted into the Rock & Roll Hall of Fame and complete a sold-out rescheduled world tour in support of their 50th Anniversary.  As we roll into 2024, Judas Priest continue to retain their crown as one of the biggest and best bands in the world.
Follow Judas Priest: Twitter, Facebook, Instagram and YouTube.