MEGADETH FRONTMAN DAVE MUSTIANE DISCUSSES WINNING A GRMMY AWARD AND HOW IT FELT TO RECEIVE IT WHILE METALLICA WAS PLAYING IN THE BACKGROUND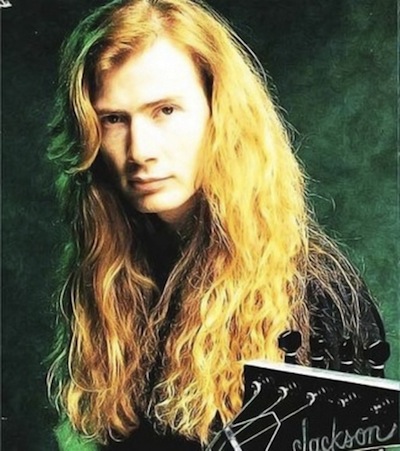 Bram Teitelman of Billboard reports:
When Megadeth picked up their first-ever Grammy for best metal performance on February 12th, it was a long time coming, but not for lack of trying — they'd been nominated nine times before in their 34-year career. What was frontman Dave Mustaine thinking being there for the tenth time?
"A little bit of everything, Mustaine tells Billboard. "Obviously the gratitude of being recognized, but also the disappointment lingering from the years where they've given the award to somebody that didn't belong in that category."
The frontman says he means [no] offense to any of the bands he lost out to in the past, mentioning Nine Inch Nails, Jethro Tull, "a live version of a 27-year-old song" (Judas Priest) and "someone doing a cover song" (Metallica)…
…What many watching the pre-ceremony at home will remember about the win, however, was the house band launching into Metallica's Master of Puppets as the band took the stage. Mustaine was famously kicked out of that band in 1983 before they'd recorded their debut album, Kill 'Em All, starting Megadeth later that year. For his part, Mustaine states that it wasn't worth getting upset over.
"They could have played any song by anybody, and it wouldn't have mattered because that was our moment," he says. "I could see the correlation with [the band] who would think, 'Oh, Megadeth, Metallica, we don't know any Megadeth, but we do know this one Metallica song, so let's play this. You think he'll get mad? I don't think so, let's hope not. Hit it, Lefty!' And then we get up there and go, 'Boy, that was the worst f–king version of Master of Puppets I've ever heard.' But that kind of stuff, you've just won a Grammy and you're going to worry about some house band doing a cover song in the background?…"
…And while they're basking in the glow of their Grammy win, Mustaine says we can expect a follow-up to Dystopia sometime next year. "I'm pretty afraid of picking up my guitar during the off season, so I try to keep my distance from it," he says. "It starts to call my name when it gets close to new record time, and the past couple weeks, I've actually been playing a little bit, so it's kind of like 'ok, here we go.'"
Read more at Billboard.
source: billboard.com